The AirStMaarten Newsletter is professional with a personal touch, informative and to the point with news, opinions, background information, articles and promotions.
If you wish to subscribe to our mailinglist, click here or send an email to mailinglist@airsxm.com. We never share our emailaddresslist with others.
We appreciate your trust and respect your privacy.
---
In this November 2015 issue:
---
1. INTRO: "Leave The Cold Behind"
2. PROMO: ARE YOU A TRAVEL AGENT?
3. ARTICLE: "St. Barths Is Calling"
4. SPONSOR MESSAGE: Book Cheap Tickets Online At CheapoAir
5. NEWS ITEM: "Sunseeker 53 Portofino Added To SeaSXM Fleet"
6. TRAVEL TIP: Discover What The Airlines Never Tell You
7. AGENDA: "Victoria's Secret Photoshoot In St. Barths"
8. ADVERTISEMENT: Book Our Private Jet Charter Flights
9. CUSTOMER SERVICE: How To Book With AirStMaarten
---
INTRO:
"Leave The Cold Behind"
---
Dear reader,
The other day a client called me from Canada. He lives on the west coast. He told me that the residents of his town plant palm trees in their yards to help them believe they are living in a Caribbean tropical area. The coastal sea area helps keep the winter cold at bay for as long as possible. But when the winter cold sets in, some have no choice but to leave the cold behind and actually head down south to warmer climates.
One such warmer climate destination is
St. Maarten
, which is a major gateway and hub in the Northeastern Caribbean region and provides direct access to the surrounding islands. Below you will see a
photograph
taken by
Philippe Castagna
featuring an aerial shot of Orient Bay beach and Pinel Island.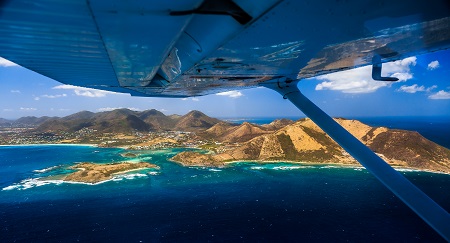 The island of St. Maarten/St. Martin has two major airports. SXM Airport on the Dutch side of the island called Princess Juliana International Airport (PJIA) and L'Esperance Airport (SFG), a regional airport on the French side of the island in the Grand Case area. These two airports are 45 minutes driving from each other. Notably is that these two airports offer access to the final destination most Northamericans are heading for, especially this time of the year:
St. Barths
.
So my advice to all Canadians and Americans is, leave the cold behind and head south. Head south to the Caribbean and make St. Maarten your transit stop because I don't mind at all that St. Barths is your final stop. Not at all. I am here to help you make your transit through St. Maarten to St. Barths as smooth and hassle-free as possible.
It is the season when getting to St. Barths can be very challenging. To solve that challenge, luckily we have an online resource: "
10 Practical Resources To Help Travellers Get To St. Barths
". New is number 11, the option of a
Speed Boat charter
. Visit
www.SeaSXM.com
for more information about our speed boat charters to St. Barths and Anguilla. A brand new 53ft Sunseeker Portofino luxury speedboat has been added to the fleet. Read more about this below in the News Item section.
In the meantime, you can also read more about our
eBook
, our
Shared Charters
, our
VIP Services
, our
Helicopter Service
and our
Private Jet service
on our website over at
AirSXM.com
.
Happy Readings!
Terrance Rey
Publisher/Editor
PS
: If you are a
travel agent
, a
concierge services provider
or a
private jet operator
and
if you need assistance for your clients transitting through St. Maarten's SXM Airport
, you can contact me by emailing
sales@airsxm.com
.
Advertorial

---
In case you are reading about AirStMaarten's private charters program for the first time, here is some background information on our shared charters.
WHAT ARE SHARED CHARTERS?

A Shared Charter is when you book a Private Charter and you Only Pay for the Seat You Occupy. Not for the whole aircraft. AirStMaarten has been successfully organizing shared charters to St. Barths since November 2006.
HOW OUR SHARED CHARTERS WORK

Travel Agents and clients book our shared charters for seamless connections and hassle-free transfers to St. Barths and surrounding islands such as Anguilla, St. Kitts, Nevis, St. Eustatius, Antigua and Tortola.
HERE IS HOW OUR SHARED CHARTERS WORK...

1) If 1 or 2 people request to share a private charter, the shared charter is scheduled.
2) Once 3 or 4 people book the shared charter, the shared charter is confirmed and you are good to go!
If the shared charter is not confirmed, passengers are booked on a regular commercial flight with complimentary VIP Services to ensure their transit is smooth and hassle-free.
Visit
www.sharedcharters.com
for more information, scheduling and availabilities.
---
Adformercial:
StMaartenTours.info offers you the opportunity to book your island tours in advance to your arrival on St. Maarten, whether for the day by cruise ship, or during your vacation stay on the island. We have a wide range of island tours to choose from, including air tours, city tours, beach tours, mountain tours, historical tours, shopping tours, restaurant & bar tours, all day tours, jeep safari tours and our various popular water sports activities. Visit St. Maarten Tours, Trips, Transfers, Excursions and Taxi Services!
Click here!
---
2. PROMO:
ARE YOU A TRAVEL AGENT?

---
IF YOU ARE A TRAVEL AGENT...

Email our Sales Department at AirSXM.com for information about our attractive pre-season travel agency discounts for private and shared charters and VIP services to St. Barths. We are offering significant agency discounts on charters booked for travel during the 2015-2016 winter season. Contact our Sales Department for more information on our agency discount rates.

AIRSTMAARTEN
P.O. Box 5245, Philipsburg, St. Maarten
Tel. +1 (721) 581-9740, Cell: +1 (721) 523-3564, Fax: 1-866-503 0347
Email: sales@airsxm.com
---
3. ARTICLE:
"St. Barths Is Calling"
---
"St. Barths Is Calling"
Findings of a Roaming Internet Surfer, Terrance Rey
Surfing the internet for pictures and topics relating to St. Barths, sometimes you come across photo's that touches you to your core and you feel the calling it exudes on your psyche and you feel the need to respond to that calling.
One such photo was found on Instagram, published by darakaye
here
and which I republish here for the viewing pleasure of my readers.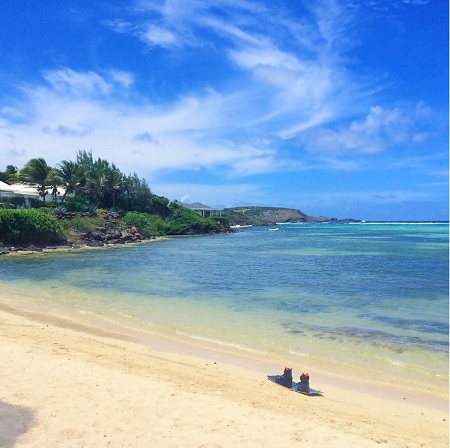 ---
Terrance Rey is owner and managing director of Let's Travel, Travel Anywhere and AirStMaarten. Terrance Rey has 15 years experience in the travel business as a travel agent, tour operator, charter broker and as an internet travel entrepreneur. You can email Terrance Rey directly via terrance@airsxm.com with any questions you may have relating to your international travel needs.
Advertisement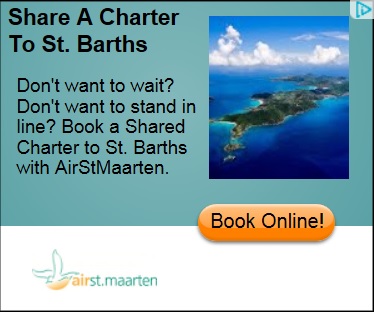 Visit
http://www.airsxm.com/vipservices
and
http://www.sharedcharters.com
for more information.
---
4. SPONSOR MESSAGE:
Book Cheap Tickets Online At CheapoAir
---
---
5. NEWS ITEM:
"Sunseeker Portofino 53 Added To SeaSXM Fleet"
---
SUNSEEKER 53 PORTOFINO ADDED TO SEASXM FLEET
In time for the 2015-2016 high season, a Suneeker 53 Portofino has been added to the SeaSXM fleet. Here two videos below featuring this new boat addition to the fleet.
PERFORMANCE & HANDLING
The Portofino 53 is powered by twin Volvo D12 16 715hp diesel shaftdrives, spinning FP props in tunnels. These quiet-running and fuel-efficient engines propel this more than 20,000kg boat (at full load) effortlessly along at a comfortable cruise speed of 24 knots and top-out at 32.1 knots pulling 2300rpm. Maximum speed with half load is quoted at 34 knots.
Pushing the electronic throttles fully forward evokes an instant response from the engines and steadily lifts the hull out of the hole. Then the turbochargers kick in to add that push you back in your seat acceleration. Knock the revs back to around 1650rpm and she'll cruise at a comfortable 18 knots allowing her 2000lt fuel load to achieve a cruising range of around 300 nautical miles.
Like all Sunseekers, this cruiser displays runabout-like handling from a hull with an overall length 55' 9". The silky-smooth feel of her helm is a testament to the precise tolerances these vessels are constructed to. Turn the steering wheel a few centimetres and you can see the bow moving a few centimetres in that direction. Now that's what we call direct steering.
Then, because the props are situated in tunnels, they maintain a clean bite on the water, so even during hard turns the hull displays no tendency to tail slip and throws the boat around like a ski boat, albeit one with a larger turning circle.
Being a twin-screw boat she's quite capable of spinning within her own length with one engine in forward and the other in reverse, so manoeuvring around the marina is simple, with a bit of practice, that is. But the addition of the standard bow thruster is going to aid all skippers enormously when berthing.
The Portofino 53 also features Sunseeker's extremely aggressive chine design. She carries her wide, down-turned chines well forward, which, even before you employ the trim tabs, controls lateral stability (at rest and underway) and throws water and spray down and away form the hull for a dry ride. Her 20,000kg displacement also aids the ride, because the sharp bow slices through swells cleanly without banging.
The sleeping arrangements on the 53 allow eight people to overnight (if the optional convertible lounge is fitted) in luxurious comfort. The forward owner's stateroom features its own en-suite, while the two guest cabins share the day head.
While both bathrooms are quite spacious and fully featured, larger owners and guests may find it's a bit squeezy when standing in the Perspex shower enclosure.
There are twin bunks in the starboard cabin, while the slightly larger port stateroom features a six foot-plus ceiling and a full-sized double bed. All the staterooms feature cedar-lined wardrobes, so your clothes will always smell fresh and moths will never be a problem.
OVERALL
With a price tag of $1.95m, the Portofino 53 represents excellent value for money, because that cost includes everything: full electronics, genset, reverse-cycle air-conditioning, even a multi-purpose Expresso coffee maker, washing machine and 2 at-screen televisions in all cabins and the saloon.
Her ride and handle are one of the best in her class and the workmanship used during her construction is obvious wherever you look.
With a sleeping capacity of up to eight adults, this boat has everything to please anyone in the market for a bloody big 53-footer.
THE PORTOFINO 53S STORY
According to the team at Sunseeker, the Portofino 53 is a luxurious sports cruiser that combines wide cruising potential with impressive top speeds.
Available in open, or covered cockpit versions, with a choice of both engine and shaftdrive options, she is exceptional manoeuvrable, highly efficient and economical to run.
Her large open cockpit is complimented by a spacious aft sun pad, a garage for the tender and there is also a comfortable interior with a wide range of fi tting options.
ENGINE ROOM
The Sunseeker Portofino 53 was powered by twin Volvo D12 16 715hp diesel shaftdrives, spinning FP props in tunnels. Two CAT C12 16 710hp diesel engines are optional.
For more information and bookings, go to
www.seasxm.com
.
---
6. TRAVEL TIP:
Discover What The Airlines Never Tell You
---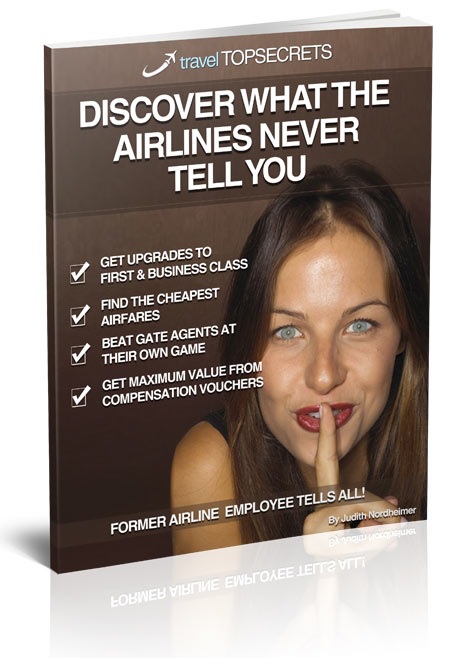 Most travelers dream about getting an operational upgrade to first or business class, at least once.
It is time you turned the odds to your favor. Imagine yourself flying first or business class, pampered by the most attentive cabin crew, sitting next to celebrities and executives, all sipping on their champagne or slipping into the complimentary pajamas provided in first class, tucking in for a good night sleep in a fully reclining flatbed seat. I guarantee you will forever be the envy of all your friends!
This
Travel Guide With Top Airline Secrets
reveals how you can obtain airline tickets at ridiculously low costs.
Click here for more details...
---
7. AGENDA:
"Victoria's Secret Photoshoot In St. Barths"
---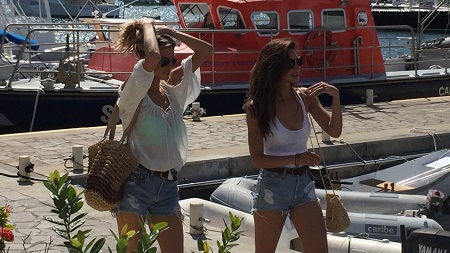 The cat's out of the bag! Victoria's Secret is holding their photoshoot for the 2016 Swimsuit edition in St. Barths this December 2015.
---
Stay informed on developments at AirSXM, Inc., by subscribing to our mailinglist,
click here
or send an email to
mailinglist@airsxm.com
. We will never share our emailaddresslist with others. We appreciate your trust and respect your privacy.
---
8. ADVERTISEMENT:
Book Our Private Jet Charter Flights
---

If you want to book a private jet charter to St. Maarten or anywhere in the world for that matter, just email info@reyjet.com or submit a quote request online at www.ReyJet.com. We have access to thousands of private jet aircrafts around the world which are available with just one phone call or email. Call +1-721-527-4133 today or email info@reyjet.com now.
---
9. CUSTOMER SERVICE:
How To Book With AirStMaarten
---
Booking Procedure & Reservation Information
Submit a reservation request online at www.airsxm.com. Once we receive your request, we will send you a Reservation Offer for your consideration. Once you accept our proposal, we will require payment. You can use our credit card form to send us your credit card information. We accept all major credit cards such as Visa, MasterCard, Discover and American Express. You can also pay by bank transfer, check, cash or Paypal. Once payment is received, we will book the commercial flight or private charter and send you a Reservation Confirmation.
If you have requested additional services such as VIP Transfer Services, we will send you a Final Confirmation containing all details of your travel itinerary and services booked. And that's how you book with AirStMaarten.
Other Customer Service Resources:
Our Shared Charters concept explained in full detail
VIP Transfer Services through Princess Juliana Int'l Airport
Island Concierge Services on St. Maarten and St. Barths
Read what our satisfied clients are saying about our service
Ticket Insurance
We also accept payments via Paypal
St. Maarten Villa Rentals
St. Maarten Yachting and Sailing Charters
Sign up for our email newsletter service
---