The AirStMaarten Newsletter is professional with a personal touch, informative and to the point with news, opinions, background information, articles and promotions.
If you wish to subscribe to our mailinglist, click here or send an email to mailinglist@airsxm.com. We never share our emailaddresslist with others.
We appreciate your trust and respect your privacy.
---
In this July 2015 issue:
---
1. INTRO: "Researching New AirSXM Destinations Update"
2. PROMO: ARE YOU A TRAVEL AGENT?
3. ARTICLE: "How To Beat The Summer Doldrums In St. Barths"
4. SPONSOR MESSAGE: Book Cheap Tickets Online At CheapoAir
5. NEWS ITEM: "Jay-Z Invests In Uber For Private Jets"
6. TRAVEL TIP: How To Get Group Discounts With AirSXM To St. Barths
7. AGENDA: St. Barths Summer Sessions 2015
8. ADVERTISEMENT: Book Our Speed Boat Charters To St. Barths
9. CUSTOMER SERVICE: How To Book With AirStMaarten
---
INTRO:
"Researching New AirSXM Destinations Update"
---
Dear reader,
In our May 2015 newsletter issue I announced that at AirSXM.com we are now researching new routes for our Shared Charters program. Presently, we offer shared charters between St. Maarten, St. Barths, Anguilla, Antigua and Puerto Rico. The following new shared charter routes are being researched and under consideration for launch in 2016:
between Antigua and Barbuda
between Barbados and St. Vincent & The Grenadines
between St. Vincent and The Grenadine islands of Bequia, Mustique, Canouan and Union Island
between St. Lucia, Grenada and St. Vincent & The Grenadines
between Aruba, Bonaire and Curacao
between Trinidad and Tobago
between Jamaica, The Dominican Republic, Haiti and Cuba
In this edition of the AirSXM Newsletter I would like to add the following routes as well...
Grand Cayman
The Bahamas
The Turks & Caicos Islands
After our May 2015 newsletter was published, a young aspiring pilot in the Turks & Caicos Islands contacted us and informed us about the potential for shared charters between the many islands of the TCI chain of islands with its equal amount of airstrips that are not being serviced by local operators, leaving for example cruise ship visitors without the opportunity to do sightseeing tours and exploring these tropical islands by airplane.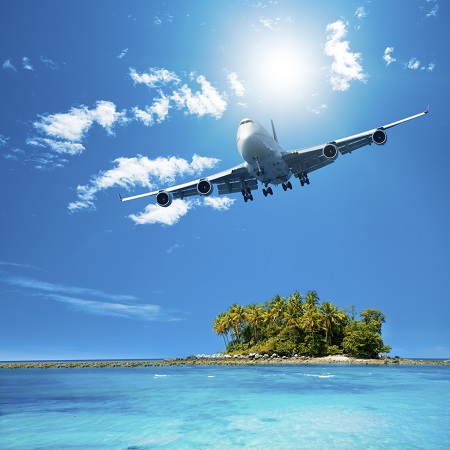 So we have a great opportunity to expand the business model of our shared charters program to include these attractive and unexplored tropical Caribbean islands destinations as well.
In the meantime, let's read about how we can beat the summer doldrums in St. Barths in this month's issue of the AirStMaarten: Destination St. Barths Newsletter.
Best regards,
Terrance Rey
Publisher/Editor
PS
: If you are a
travel agent
, a
concierge services provider
or a
private jet operator
and you need assistance for your clients transitting through St. Maarten SXM Airport, you can contact me by emailing
sales@airsxm.com
.
Advertorial

---
In case you are reading about AirStMaarten's private charters program for the first time, here is some background information on our shared charters.
WHAT ARE SHARED CHARTERS?

A Shared Charter is when you book a Private Charter and you Only Pay for the Seat You Occupy. Not for the whole aircraft. AirStMaarten has been successfully organizing shared charters to St. Barths since November 2006.
HOW OUR SHARED CHARTERS WORK

Travel Agents and clients book our shared charters for seamless connections and hassle-free transfers to St. Barths and surrounding islands such as Anguilla, St. Kitts, Nevis, St. Eustatius, Antigua and Tortola.
HERE IS HOW OUR SHARED CHARTERS WORK...

1) If 1 or 2 people request to share a private charter, the shared charter is scheduled.
2) Once 3 or 4 people book the shared charter, the shared charter is confirmed and you are good to go!
If the shared charter is not confirmed, passengers are booked on a regular commercial flight with complimentary VIP Services to ensure their transit is smooth and hassle-free.
Visit
www.sharedcharters.com
for more information, scheduling and availabilities.
---
Adformercial:
StMaartenTours.info offers you the opportunity to book your island tours in advance to your arrival on St. Maarten, whether for the day by cruise ship, or during your vacation stay on the island. We have a wide range of island tours to choose from, including air tours, city tours, beach tours, mountain tours, historical tours, shopping tours, restaurant & bar tours, all day tours, jeep safari tours and our various popular water sports activities. Visit St. Maarten Tours, Trips, Transfers, Excursions and Taxi Services!
Click here!
---
2. PROMO:
ARE YOU A TRAVEL AGENT?

---
IF YOU ARE A TRAVEL AGENT...

Email our Sales Department at AirSXM.com for information our attractive pre-season travel agency discounts for private and shared charters and VIP services to St. Barths. We are offering significant agency discounts on charters booked for travel during the 2015-2016 winter season. Contact our Sales Department for more information on our agency discount rates.

AIRSTMAARTEN
P.O. Box 5245, Philipsburg, St. Maarten
Tel. +1 (721) 581-9740, Cell: +1 (721) 523-3564, Fax: 1-866-503 0347
Email: sales@airsxm.com
---
3. ARTICLE:
"How To Beat The Summer Doldrums In St. Barths"
---
"HOW TO BEAT THE SUMMER DOLDRUMS IN ST. BARTHS"
By Terrance Rey
Everyone who lives and works on St. Barths knows that summer is the 'slow' season compared to the 'bustle' during the winter high season. However, things have improved with the rebound in the financial sector and the world's economy and more people from the US and Europe have become acquainted with the shores, cuisine and beauty of St. Barths. But summer is still a bit slow. Up until now, that is. People who come to St. Barths in the summer can now expect to leave the doldrums at home.
In the words of the great Bob Marley,
you can lively up yourself and be no drag
in quite a few ways in St. Barths during the summer nowadays. The island has developed a number of festivals, concert venues, and celebrations that take place in the summer months. These include Bastille Day on July 14th, because we are French after all.
On July 21st we celebrate the end of slavery in honor of Victor Schoelcher, the man who championed the end of slavery on our French West Indies islands. The Festival of Gustavia is a colorful party and fishing festival that brings in sports fishermen from all over the world.
The EMM Sunset Party, the annual "fete" at Flamands, the Gustavia music festivals in June, the West Indies Regatta in May, and the annual St. Barth Film Festival in April have been developed by the government to provide a variety of entertainment to visitors and residents during the summer months. Also a way of extending the "season" in St. Barths.
If you have not eaten everywhere in St. Barths yet, summer is the perfect time to experiment and enjoy the huge varieties of cuisine and taste sensations that the many fine restaurants have to offer. One of the islands most knowledgeable and long time visitor - a 'local' by now on all counts - Dennis Carlton, author of the St. Barths book "
Case et Cuisine
" and owner of the
villa
of the same name and fame and also the proprietor of the
Normandie Hotel
, highly recommends the fare at Le Repaire, Maya's, Eddy's, Le Carre, Santa Fe, Hideaway, Bagatelle, Do Brazil, BAZ, Cote Port, L'Isola, Le Grain de Sel, Tamarin and La Gloriette.
The low summer rates make dining out just a little more special. Every local chef makes a special effort to make summer dining a fabulous deal. According to Dennis, the restaurants have been 'buzzing' this summer and many were packed with people taking advantage of the luncheon rates. "
For the first time in memory, Santa Fe will be open in August! And one of the greatest bargains -- ever -- is being repeated by Chef/Proprietor Jean Claude at his L'Espirit restaurant in September.
" noted Dennis Carlton in a recent posting online.
Naturally, the beaches are always open and the summer heat makes the water more inviting. Fishing, boating, parasailing, and all other water sports are just as lively in the summer as they are during the high season winter period. Several
webcams
on the island can give you an idea of the fun that you may be missing.
The summer on St. Barths can be a real great time for a total relaxation visit.
You can leave all your worries and your cares behind and just forget about all your problems
. Read that book you have been dying to read. Visit parts of the island you have heard about but never seen before. Buy a souvenir that is absolutely you and uniquely different.
The aforementioned
webcams
can show you the sights, the beaches, the people, the sports, and all the fun that you may be missing by not coming to our island in the summer, including women's beach volleyball. At least, so I have been told. I haven't managed to see that as yet. Maybe summer next year!
Smaller crowds, lower prices, and a larger selection of the best villas make summer in St. Barths just that much better. To submit a reservation request to share a charter to or from St. Barths this summer, go to
http://www.airsxm.com/request.php
.
---
Terrance Rey is owner and managing director of Let's Travel, Travel Anywhere and AirStMaarten. Terrance Rey has 15 years experience in the travel business as a travel agent, tour operator, charter broker and as an internet travel entrepreneur. You can email Terrance Rey directly via terrance@airsxm.com with any questions you may have relating to your international travel needs.
Advertisement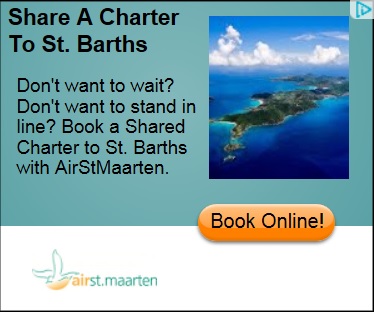 Visit
http://www.airsxm.com/vipservices
and
http://www.sharedcharters.com
for more information.
---
4. SPONSOR MESSAGE:
Book Cheap Tickets Online At CheapoAir
---
---
5. NEWS ITEM:
"Jay-Z Invests In Uber For Private Jets"
---
JAY-Z INVESTS IN UBER FOR PRIVATE JETS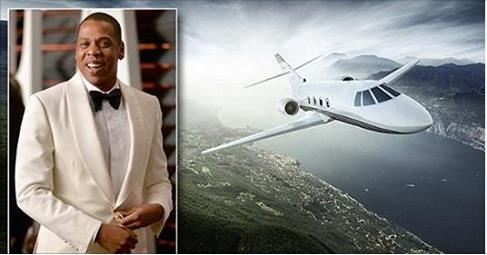 According to reports reaching our news desk, rap mogul and "I'm a business, man" Jay-Z and others have invested 20 million US Dollars in JetSmarter, the Uber of private jets, a service that was one of the first private jet brokers to develop an app to make booking a private jet charter as easy as possible.
We at ReyJets.com will continue the monitor the news and developments in the apps developments for the private jet charter market. We will bring you the latest and most relevant news in this space as time progresses. If you want to book a private jet charter to St. Maarten, just email
sales@airsxm.com
or submit a quote request online at
www.ReyJets.com
.
---
6. TRAVEL TIP:
How To Get Group Discounts With AirSXM To St. Barths
---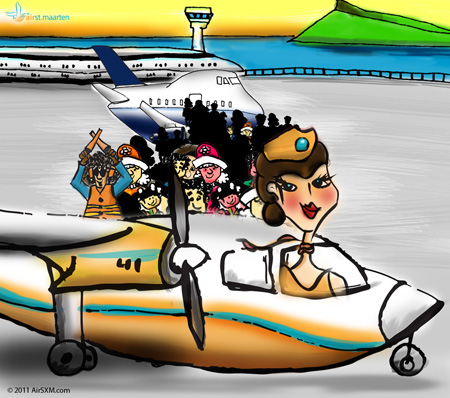 If you are part of a group of at least 10 persons - even if the party is spread out in different groups of people ranging from couples or families - even if arriving on different inbound flights - and you want to benefit from AirSXM's group discount service, please email us via sales@airsxm.com to request a group discount code for your party. Then when the people in your party submit their own reservation request via
http://www.airsxm.com
they can fill in the group discount code in the comments field at the end of the reservation request process.
Whatever you want do, we at AirSXM are here to help you plan your next flight into St. Barths, be it via commercial flight, private charter, shared charter or helicopter charter. And don't forget to request our VIP Services as well.
Visit
http://www.airsxm.com
to select your preferred flight option. We also accept bookings up to over a year in advance as well. Just don't forget to request your promo code if you are traveling with a diverse party of 10 persons or more.
Adformercial: Fired Travel Agent Reveals How To Get Dirt Cheap Airfare Tickets! I Was Fired By The Airlines, So This Is My Revenge! This Angry Ex-travel Agent Will Reveal The Deepest, Darkest Secrets Of The Airline Industry To Show How You Can Obtain Airline Tickets At Ridiculously Low Costs! Click here!
---
7. AGENDA:
"St. Barths Summer Sessions 2015"
---
If the line up of the 2014 St. Barths Summer Sessions was any indication, the 2015 St. Barths Summer Sessions should be equally funtastic, if not better.
The 7th annual St Barth Summer Sessions, August 5-15, feature an eclectic mix of funk, blues, rock, and world music at La Plage and venues across the island.

Once the dog days of August roll around, the island starts to rock with the 7th annual St Barth Summer Sessions, a great live-music series organized by Saint Barth Rocks and based at La Plage restaurant at Tom Beach Hotel, August 5-15, 2015. The vibe also spreads to venues across the island with concerts at La Plage as well as L'Esprit Jean-Claude, The Christopher Hotel, Cheval Blanc Isle de France, Le Carré and Bonito on August 9-14, and the fantastic festival finale at La Plage on August 15, the culmination of 11 nights of great music.
Singer Sophia Urista returns this year with the funk group Concrete Jungle. Urista was born in Detroit and moved to New York City after graduating from The University of Michigan to pursue acting. She began a musical singing career two years later after winning a karaoke contest. She later met the legendary Ashford and Simpson, who, in addition to producer Quincy Jones, mentored and encouraged her to pursue writing and recording her blues-inspired songs. Currently, residencies at world-renowned "Sleep No More" at The McKittrick Hotel, Duane Park Restaurant on the Bowery, and The Box inspire her to connect with her audiences in unconventional and refreshing ways. She is the lead singer of NYC rock and roll trio "The VeeVees" with Andrea Belfiore on drums and songwriter Garrett Cillo on guitar and vocals. Influences include Betty Davis, Ike & Tina Turner, and Led Zeppelin. Performing at La Plage, August 5-9.
Additional guests this year include Josh Flowers & The Wild, a London-based four-piece band that blends crunching blues with rock and folk influences, all underpinned by engaging, honest song writing. Led by front-man Josh Flowers, with Squiff on cello, Dave on bass, and Reuben on drums, they charm their audiences with impressive musicianship, country-inspired harmonies and high-energy shows. The band has recorded for their debut album with Grammy and Brit Award-winning producer Martin Terefe (Cat Stevens, Jamie Cullum, KT Tunstall). Performing at La Plage, August 10-12.
Also on the roster is Life On Planets, a soft-spoken, hard-rocking group from Baltimore debuted their full-length live show at the Wolf + Lamb Marcy Hotel. Their music fuses indie art-rock and electronic music in a pairing of two dramatically different personas, merging as one for a serendipitous, romantic sound that's now been signed to the Double Standard label. Life on Planets has also released music through Better on Foot, where the single "Apollo" made waves in early 2014. The touring act features live vocals and guitar, backed by a DJ/producer, dawning a long-awaited return to authentic songwriting in dance music. Life on Planets' first full-length album is "Curious Palace" on Wolf & Lamb Records. Performing at La Plage, August 13-15, along with returning singer/songwriter Greta Karen.
Check out St Barth Summer Sessions schedule on Facebook or online at
stbarthsummersessions.com
.
---
Stay informed on developments at AirSXM, Inc., by subscribing to our mailinglist,
click here
or send an email to
mailinglist@airsxm.com
. We will never share our emailaddresslist with others. We appreciate your trust and respect your privacy.
---
8. ADVERTISEMENT:
Book Our Speedboat Charters To St. Barths
---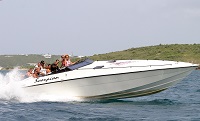 If you are afraid of flying and landing in St. Barths; if the ferry service is too slow or too bumpy for your taste; if all flights to St. Barths are full; or if the St. Barths is closed due to sunset, you can charter our speedboat service to St. Barths.
Our speedboat charters are powered by Scorpion Trips. Scorpion is more than just a boat, it's an experience. Step aboard the 37 foot offshore speed boat and enjoy one of the fastest boats in the region.

Scorpion's speed boat runs on twin 600 horse power Mercruiser engines. A total of 1,200 horse power! Scorpion's speed boats can also carry passengers in an unsurpassed level of comfort and style at regular cruising speeds which ensure comfort and speed. Scorpion has an open bar with cold drinks and a secure cabin space for any luggage etc.

So surf to
StMaartenTours.info
to book a speed boat charter to St. Barths, Anguilla and Saba.
Email us now via info@stmaartentours.info for more information about our Speedboat Charters.
---
9. CUSTOMER SERVICE:
How To Book With AirStMaarten
---
Booking Procedure & Reservation Information
Submit a reservation request online at www.airsxm.com. Once we receive your request, we will send you a Reservation Offer for your consideration. Once you accept our proposal, we will require payment. You can use our credit card form to send us your credit card information. We accept all major credit cards such as Visa, MasterCard, Discover and American Express. You can also pay by bank transfer, check, cash or Paypal. Once payment is received, we will book the commercial flight or private charter and send you a Reservation Confirmation.
If you have requested additional services such as VIP Transfer Services, we will send you a Final Confirmation containing all details of your travel itinerary and services booked. And that's how you book with AirStMaarten.
Other Customer Service Resources:
Our Shared Charters concept explained in full detail
VIP Transfer Services through Princess Juliana Int'l Airport
Island Concierge Services on St. Maarten and St. Barths
Read what our satisfied clients are saying about our service
Ticket Insurance
We also accept payments via Paypal
St. Maarten Villa Rentals
St. Maarten Yachting and Sailing Charters
Sign up for our email newsletter service
---