The AirStMaarten Newsletter is professional with a personal touch, informative and to the point with news, opinions, background information, articles and promotions.
If you wish to subscribe to our mailinglist, click here or send an email to mailinglist@airsxm.com. We never share our emailaddresslist with others.
We appreciate your trust and respect your privacy.
---
In this May 2014 issue:
---
1. INTRO: AirSXM's New Summer Shared Charters
2. PROMO: ARE YOU A TRAVEL AGENT?
3. ARTICLE: Travel Writers Needed!!!
4. SPONSOR MESSAGE: Book Cheap Tickets Online At CheapoAir
5. NEWS ITEM: New Five-Star Resort Will Be Epic For St. Maarten
6. TRAVEL TIP: Be Hip, Travel Like A VIP
7. AGENDA: Coming Soon! Booking Tool For VIP Services
8. ADVERTISEMENT: Book Our Speedboat Charters To St. Barths
9. CUSTOMER SERVICE: How To Book With AirStMaarten
---
INTRO:
AirSXM's New Summer Shared Charters
---
Dear friends and clients,
In May we saw the end of the 2013-2014 high season. A very good season it was. We plan to use to slow low season to test some new travel services and new destinations in the Caribbean we have not been servicing at all in the past with our shared charters programme. Destinations such as Guyana, Jamaica, Trinidad, Haiti and Colombia. In December we are planning to service Suriname with a Christmas shared charter.
In the coming months we will keep you posted on developments in this area.
Happy Readings!
Terrance Rey
Adformercial: StMaartenTours.info offers you the opportunity to book your island tours in advance to your arrival on St. Maarten, whether for the day by cruise ship, or during your vacation stay on the island. We have a wide range of island tours to choose from, including air tours, city tours, beach tours, mountain tours, historical tours, shopping tours, restaurant & bar tours, all day tours, jeep safari tours and our various popular water sports activities. Visit St. Maarten Tours, Trips, Transfers, Excursions and Taxi Services! Click here!
---
2. PROMO:
ARE YOU A TRAVEL AGENT?

---
IF YOU ARE A TRAVEL AGENT...

Email our Sales Department at AirSXM.com for information our attractive pre-season travel agency discounts for private and shared charters and VIP services to St. Barths. We are offering significant agency discounts on charters booked for travel during the 2014-2015 winter season. Contact our Sales Department for more information on our agency discount rates.

AIRSTMAARTEN
P.O. Box 5245, Philipsburg, St. Maarten
Tel. +1 (721) 581-9740, Cell: +1 (721) 527-7966, Fax: 1-866-503 0347
Email: sales@airsxm.com
---
3. ARTICLE:
Travel Writers Needed!!!
---
If you are a travel writer and want to publish your material on our website, please email us via sales@airsxm.com.
---
4. SPONSOR MESSAGE:
Book Cheap Tickets Online At CheapoAir
---
---
5. NEWS ITEM:
New Five-Star Resort Will Be Epic For St. Maarten
---
MAHO--CEO and President of the Maho Group Saro Spadaro says the new Ocean Point at Maho Development, a five-star luxury development, will be "an epic change for tourism in St. Maarten" which will demonstrate that the principals at the flagship resort still believe in St. Maarten after four decades.
By Michael Granger

Sonesta St Maarten all-inclusive Resorts, which includes Sonesta Great Bay Resort and Sonesta Maho Beach Resort, both four-star, all-inclusive resorts, is looking to up its game by adding a luxury, five-star, all-inclusive resort just next door to Sonesta Maho Beach Resort.
Hesova, director of business development for Sonesta St. Maarten All-Inclusive Resorts recently told online portal travelagentcentral.com "We just felt like there was a market for this. "We looked at resorts like Sandals and Dreams and what they were doing, and just knew that the luxury all-inclusives are something that people are really going for now. And we have the location for it."
Spadaro told The Daily Herald on Friday: "With the Ocean Point project, we are excited to pave the way in innovative hospitality, and be the first true five-star hotel on the Dutch side of St. Maarten. From a historical perspective, Ocean Point, which is the former Ocean Terrace building at Maho, (also the original Concord Hotel, which of course went through many renovations and additions), was acquired by The Maho Group back in the 1970s.
"As a company, we pride ourselves in being historic visionaries, and 40 years of our dedication to this country have proven that. From our diverse real estate and gaming options to our resort and lifestyle brands, we believe in St. Maarten," Spadaro said.
The adults-only hotel is expected to have a soft opening in October, with work ahead of schedule. There will be around 130 rooms and suites. They will be housed in Sonesta Maho Beach's original Ocean Terrace, which was built in the '70s. Although the shell of the structure will remain, the rest of the building is being completely transformed.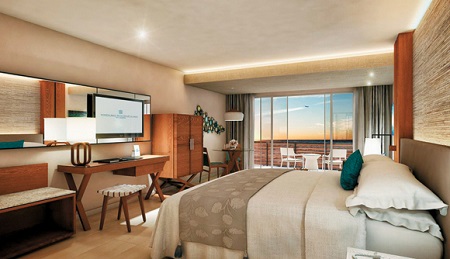 The lowest category here is going to be the Junior Suites. On the first floor, there will be 25 swim-out Junior Suites, while Sunset Suites located on the second, third and fourth floors will have a terrace with plunge pools. The best rooms, however, will be the Luxury Rooftop Suites. There will be about 15-20 of these. These luxurious rooms will have all the amenities that clients have come to expect in a luxury resort.
Hesova says private/concierge service will be available for all room categories. Rooms will range from roughly US $350 per person, per night for the lowest category and US $700 per person, per night for the Luxury Rooftop Suites.
There will be two dining options: the main restaurant and the rooftop bar. Both will be a la carte dining, but clients staying at Ocean Point at Maho are allowed to enjoy the amenities of next door's Sonesta Maho Beach Resort, which offers a breakfast buffet.
Hesova also noted that there are still discussions ongoing on how to handle
transfers to and from the airport and luxury vehicles
are strongly being considered.
"A few years ago, we created the first all-inclusive resort on the island, and then with Sonesta Great Bay we opened the first adults-only all-inclusive. With more than US $25 million invested in Maho and Ocean Point this year, we'll be bringing an elevated level of style and design never before seen in this country. It's going to be an epic change for tourism in St. Maarten," Spadaro said.
Published May 17th, 2014, on TheDailyHerald.com
For tours, transfers, trips, excursions and taxi services, visit
http://www.stmaartentours.info
.
---
6. TRAVEL TIP:
Be Hip, Travel Like A VIP
---
If you agree that it is hip to travel like a VIP, then we at AirSXM have some interesting options available to make your VIP travel as hip as possible. From Premium VIP Meet & Greet to Exclusive Luxury Vehicles for your ground transportation needs.

We specialize in providing exclusive and personalized VIP transportation services on St. Maarten, offering our clients enhanced airport transfer experiences to make the arrival in St. Maarten / St. Martin even more exciting!
We are thrilled to offer our service anywhere on the island, whether it's from the international airport on the Dutch side, Princess Juliana International Airport (PJIA) SXM Airport, or arriving in your private yacht; we are there to provide you transportation services in VIP style.
We also provide additional services from private bodyguard to custom deliveries based on your specific wishes and needs. Such as Island Tours, Shopping Tours, Private Transfers, Wedding Chauffeurs and Night Tours & Excursions.
Our team is here to service you and make sure that you experience the hippest VIP service in St. Maarten.
Adformercial: Fired Travel Agent Reveals How To Get Dirt Cheap Airfare Tickets! I Was Fired By The Airlines, So This Is My Revenge! This Angry Ex-travel Agent Will Reveal The Deepest, Darkest Secrets Of The Airline Industry To Show How You Can Obtain Airline Tickets At Ridiculously Low Costs! Click here!

---
7. AGENDA:
Coming Soon! Booking Tool For VIP Services
---
We are presently developing a VIP Services Booking Tool for our end-user clients and travel agents, concierge desks and other service providers in the travel and aviation industry. This will be launched online at http://www.airsxm.com/vipservices.

---
8. ADVERTISEMENT:
Book Our Speedboat Charters To St. Barths
---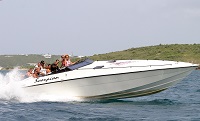 If you are afraid of flying and landing in St. Barths; if the ferry service is too slow or too bumpy for your taste; if all flights to St. Barths are full; or if the St. Barths is closed due to sunset, you can charter our speedboat service to St. Barths.
Our speedboat charters are powered by Scorpion Trips. Scorpion is more than just a boat, it's an experience. Step aboard the 37 foot offshore speed boat and enjoy one of the fastest boats in the region.

Scorpion's speed boat runs on twin 600 horse power Mercruiser engines. A total of 1,200 horse power! Scorpion's speed boats can also carry passengers in an unsurpassed level of comfort and style at regular cruising speeds which ensure comfort and speed. Scorpion has an open bar with cold drinks and a secure cabin space for any luggage etc.

So surf to
StMaartenTours.info
to book a speed boat charter to St. Barths, Anguilla and Saba.
Email us now via info@stmaartentours.info for more information about our Speedboat Charters.
---
9. CUSTOMER SERVICE:
How To Book With AirStMaarten
---
Booking Procedure & Reservation Information
Submit a reservation request online at www.airsxm.com. Once we receive your request, we will send you a Reservation Offer for your consideration. Once you accept our proposal, we will require payment. You can use our credit card form to send us your credit card information. We accept all major credit cards such as Visa, MasterCard, Discover and American Express. You can also pay by bank transfer, check, cash or Paypal. Once payment is received, we will book the commercial flight or private charter and send you a Reservation Confirmation.
If you have requested additional services such as VIP Transfer Services, we will send you a Final Confirmation containing all details of your travel itinerary and services booked. And that's how you book with AirStMaarten.
Other Customer Service Resources:
Our Shared Charters concept explained in full detail
VIP Transfer Services through Princess Juliana Int'l Airport
Island Concierge Services on St. Maarten and St. Barths
Read what our satisfied clients are saying about our service
Ticket Insurance
We also accept payments via Paypal
St. Maarten Villa Rentals
St. Maarten Yachting and Sailing Charters
Sign up for our email newsletter service
---