The AirStMaarten Newsletter
is
professional with a personal touch, informative and to the point with news, opinions, background information, articles and promotions
.
If you wish to subscribe to our mailinglist, click here or send an email to mailinglist@airsxm.com. We never share our emailaddresslist with others.
We appreciate your trust and respect your privacy.
---
In this June 2010 issue:
---
1. INTRO: Reportage Cocktail Party - June 4th, 2010
2. SPECIALS: Summer Specials Normandie Hotel St. Barths
3. ARTICLE: "St. Barts Is The New St. Barts"
4. SPONSOR MESSAGE: CheapoAir
5. NEWS ITEM: No Political Support For WINAIR
6. TRAVEL TIP: Inquire About Our Cancellation Policies
7. AGENDA: Next Cocktail Party at The Normandie Hotel: July 24th, 2010
8. ADVERTISEMENT: Save NOW For Your Next St. Barths Trip
9. CUSTOMER SERVICE: How To Book With AirStMaarten
-------------------------------------------------------------------------------------------
INTRO: Reportage Cocktail Party - June 4th, 2010
-------------------------------------------------------------------------------------------
Dear friends and clients,
This month's introduction is by Dennis Carlton, owner of The Normandie Hotel. Dennis writes...
Since buying the Normandie Hotel on St. Barths in November 2007 . . . and renovating it as a stylish contemporary inn, offering first class amenities at affordable rates . . . Wendy and I have found great pleasure in entertaining friends and family around the bar in the Hotel's "Transat Salon" and by the pool, under starry skies and a garden of Gaiac and Coconut Palm trees. Part of the enjoyment in doing so is introducing island visitors to local residents. So, it was such a festive occasion on Friday, June 4th, when Air St. Maarten's owner, Terrance Rey, joined us as co-host in entertaining 50 guests for refreshingly cool cocktails and canapés on a warm, early summer evening.
One of the very nice things about these gatherings is the lively ambiance that grows as guests see old friends and make new ones. Pitchers full of white sangria – loaded with Grand Marnier-marinated orange sections, lime wedges, raspberries, strawberries, blueberries, and apple slices – and ample supplies of chilled & bubbly wines, gave voice to animated conversations of local and visiting friends, sustained before departing for various dinner venues with tasty morsels of smoked salmon & caviar, toast points with prosciutto & crème fraîche, and crudités. Languages heard included French, English, Spanish, German, and Portuguese among island residents and visitors from Canada, Brazil, Europe, and the United States, many of whom gave grateful testimony to the uncompromising service of "AirSXM" for travel to and from SBH.
Among the guests, very specially, was St. Barths' President, Bruno Magras, with his wife and other family members. President Magras, celebrating the delivery to his airline (St. Barth Commuter) of two new Cessna Grand Caravans, nostalgically recalled evenings "picking at my guitar" with musical friends when the bar of the "old" Normandie was a principal after-work gathering spot. In those days, people converged nightly at the Hotel because there were no telephones to bring them together. These days, people continue to come to the Normandie for much the same reason – to stay in touch and join with others in having a good time. Telephones and email may have replaced the "coconut telegraph," but good company remains a vibrant part of living and visiting in St. Barths.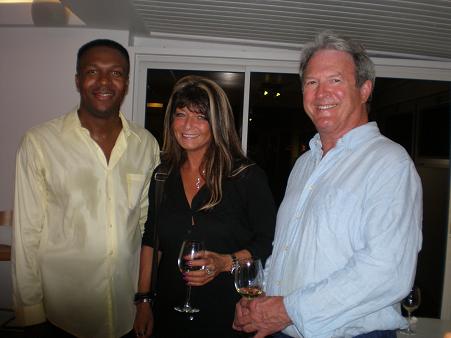 Terrance Rey, Chantal Decombe & Dennis Carlton at the Cocktail Party at The Normandie Hotel on June 4th, 2010
Relevant links:
Photo Reportage Cocktail Party at The Normandie Hotel held on Friday, June 4th, 2010
Photos of the Dinner Party after the Cocktail Party at The Normandie Hotel
Birthday Celebration Marius Stakelborough at Le Select, Saturday, June 5th, 2010
AirStMaarten's Facebook Fanpage for Destination St. Barths
St. Barth Commuter aircraft photo's
We are considering organizing the next cocktail party at The Normandie Hotel on Saturday, July 24th, 2010, at 6pm, as many regular St. Barths visitors will be on the island this summer. Also, we are featuring summer specials at The Normandie Hotel in this month's newsletter issue. See our great offers below.
Happy Readings!
Terrance Rey
Adformercial: Fired Travel Agent Reveals How To Get Dirt Cheap Airfare Tickets! I Was Fired By The Airlines, So This Is My Revenge! This Angry Ex-travel Agent Will Reveal The Deepest, Darkest Secrets Of The Airline Industry To Show How You Can Obtain Airline Tickets At Ridiculously Low Costs! Click here!
-------------------------------------------------------------------------------------------
2. SPECIALS: Summer Specials Normandie Hotel St. Barths
-------------------------------------------------------------------------------------------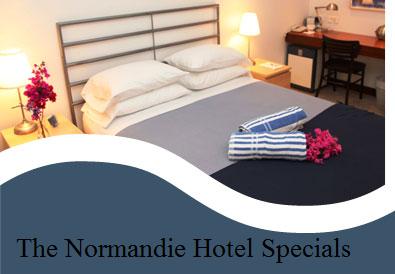 "Romantic Week-end"
450 Euros (for two people)
with
(a) 3 nights at the Hotel; (b) Bottle of Champagne at arrival;
(c) Continental breakfast each morning;
(d) Complimentary wine each afternoon; (e) Rental car;
(f) Dinner for 2 at K'fe Massai on Saturday night.
"Three or More Nights"
Ask about our Special Rates
Room + Welcome Gift + Continental Breakfast + Afternoon Wine
"Family Vacation Special"
1200 Euros
for
2 adults and 1 or 2 children in connecting rooms for 5 NIGHTS;
Continental Breakfast each morning; Welcome Gift; Complimentary afternoon wine & soft drinks; Dinner one night at Le Bouchon;
Plus rental car.
Book via contact@normandiehotelstbarts.com.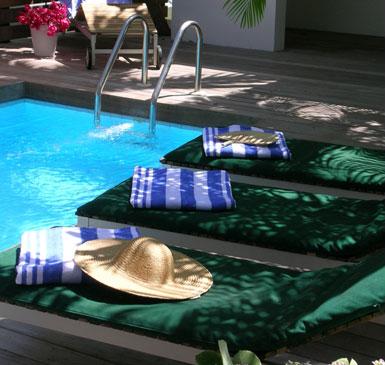 -------------------------------------------------------------------------------------------
3. ARTICLE: St. Barts Is The New St. Barts
-------------------------------------------------------------------------------------------
By James Daltrey
Every once in a while we read in the travel or lifestyle press that such and such an island or destination is going to be the "New St Barts" Bluntly, it can't be done, and here's why not.
What we have is a sophisticated, cultured and luxurious island in the middle of the Caribbean that is a gourmet's delight and features some of the best hotels, high end restaurants and most fashionable clubs in the Americas sprinkled between twenty one pristine beaches surrounded by the cleanest seas there are.
In brief, St Barts is a haven for the connoisseur, seriously looking for the best things in life. There are no fast food chains, no high rises, no casinos, no strip clubs, no all-inclusive resorts and while cruise ships do visit, they are kept at a discrete distance.
So how would one go about creating a "New St Barts"? On the one hand recreating the geographical and historical circumstances that gave rise to St Barts would be a tricky task.
For those of you who don't know the island, a brief outline: 8 square miles of island about 17 degrees north of the equator, colonized by French pioneers in the 17th century displacing the Arawaks, the indigenous Amerindian population.
There is no natural source of fresh water on St Barts, therefore no effective agriculture, and while the island was indeed a slave trading port back days and there were slaves in those dark, there were no sizeable slave based industries, such as sugar or tobacco. The attempts at agriculture that were tried were doubly foiled by hurricanes and drought.
As such, what you end up with is not the typical Caribbean notion of plantations and manor houses with the population split according to their race. Instead you have a predominately French people farming as best they can in the countryside, with the English speaking Afro-Caribbean population concentrated in Gustavia, the capital city. That there was fishing goes without saying, and even an amount of piracy, Gustavia being a free port and a convenient place to sell your booty.
St Barts became Sweden's only colony between 1784 and 1878 and this has left its mark on the architecture and street names in Gustavia as well as continuing cultural links. Because of the link with Sweden, St Barts remains a free port to this day.
From pretty much that time until the 1950s St Barts was pretty much forgotten about. Becoming officially fully part of the French Republic in 1946, the island was dependent on Guadeloupe and passed unnoticed until the arrival of the Rockefellers and Rothschilds in the 1950s and became a famed and inaccessible retreat for American high society. This is not a typical history for a Caribbean island.
Since then the island has purposefully courted the upper end of the tourism market, the reasoning being pure logic: the island is tiny.
The bulk of the island remains in the hands of the descendants of the French settlers, simply known as Saint-Barths. At a rough estimate the Saint-Barths make up around half of the population, the other half being mainly metropolitan French with a sprinkling of other Europeans and surprisingly few year round American residents.
The Saint-Barths are conservative in nature, wary of hasty changes and the small size of the community makes it almost impossible for a charlatan to make a fast buck and disappear. If you want to do business on St Barts, people have to know who you are and trust you. You live on your reputation.
St Barts has evolved slowly, in a considered manner to where it is today. No amount of planning or project managing is going to recreate that overnight. Another factor to consider when imagining your New St Barts is that you would have to make it difficult to get to, which is hardly standard practice in designing a vacation destination.
The airport runway is only 2000 feet long, and the largest plane that can land has 19 seats.
You can fly in directly from San Juan however the majority of visitors come in through Sint Maarten, the closest nearby island with an airport that can handle jets, private or otherwise, then a transfer and a ten minute hop in small twin engine plane over to St Barts and the famous roller coaster landing.
To add another factor, the airport closes at sunset. Inconvenient perhaps, but this means no night flights and thus no airplane noise to disturb your evening. Ferries are an option, but not overly frequent or pleasant, and then there are the charter speedboats, which are elegant and luxurious, but pricy for a 40 minute ride for your average traveler.
St Barts is French. Not just French in culture and language, but fully part of the French Republic and, for the moment, fully part of the European Union. There are almost no restrictions for EU citizens coming to work on St Barts (there are exceptions, but not many).
This gives St Barts opportunities for recruitment that is rare in the Caribbean, pretty much the whole of Europe as a recruitment pool: from Portuguese stone masons, to German engineers, to Italian sylists, to English hoteliers, to Swedish masseurs, to French chefs, this list goes on.
Purely because of its openness to "foreign" workers Saint Barthelemy has the pick of a pretty good crop. In terms of security St Barts is possibly one of the safest places in the world, and this is also easily explained; The community is small, 8000 people on 8 square miles.
If someone tries to launch a criminal career, they are quickly and easily identified and, how shall we say, ejected. There is also the lack of poverty. Bluntly speaking, if you don't have a job, no one will rent you accommodation, and you are off the island.
As you can see, recreating St Barts would be tough job, and a job that would be made tougher by the fact that St Barts is evolving. This subject is treated with mixed emotions. On the one hand the old world charm of a rustic island is fading, on the other hand the island has to survive in an ever more competitive world.
The way to do that is to do what St Barts does best, by improving quality and not following the crowd.
The days of the Mini-Moke have gone. There are now BMW convertibles, Mercedes and Porsches available to rent. No longer dependant on Guadeloupe, St Barts now controls its own budgets and there is a frenzy of widening and repaving the roads and rebuilding dry stone walls.
When people first started visiting St Barts the aircraft would make two passes over the grass runway. The first pass was to clear the goats, the second to land. There were no airport buildings to speak of.
You can fly direct to San Juan, or further, in a state of the art Pilatus Turboprop.
Now the, albeit tiny, airport meets all modern standards and even has, to the dismay of many, security and baggage checks on departure. The Port of Gustavia has been completely remodeled and a new Harbor Master's office built. In addition to the classic sailing yacht regatta, The Saint Barth Bucket, St Barts now organizes it's very own open to all comers regatta, Les Voiles de Saint Barth, which is making a mark on the yachting calendar.
The villas, which make up most of the rental accommodation on the island, are being refurbished, rebuilt and renewed. You no longer have the impression that you have stepped into someone else's home, but that this home was made for you.
Where there was one concierge company on St Barts six years ago, there are now seven. When a restaurant closes a more innovative one springs up in its place. It may not be your old favorite, but the spirit of excellence moves on. So while being the "New St Barts" would be a tough act to copy, keeping up would be even harder.
Premium Island Vacations
St Barts Villas, Hotels and Concierge Services
http://www.premiumislandvacations.com
Article Source: http://EzineArticles.com/?expert=James_Daltrey
-------------------------------------------------------------------------------------------
4. SPONSOR MESSAGE: CheapoAir
-------------------------------------------------------------------------------------------
-------------------------------------------------------------------------------------------
5. NEWS ITEM: No Political Support for WINAIR
-------------------------------------------------------------------------------------------
Dear Editor,

We the pilots of Windward Island Airways N.V., affectionately known by all
as Winair, would like to air our concerns about the manner in which Winair
has been treated in the past by the Central Government and politicians
alike, from the NA and the DP.

We applauded the bold move made by our Constitutional Affairs Minister Mr.
Roland Duncan by stating the facts about Winair in The Daily Herald issue
of June 4, 2010. "Winair at standstill – government must move now."

We find it a shame when you see these reports on Winair. It's been around
for 47 years and was used as a political tool by all past governments. We
remember the days when Winair had in the bank over 12 million dollars in
reserves – yes, you heard right – used to pay the civil servant salaries
in Curaçao, and then the Central Government would replenish the account
when they could.

Today it's hurtful when you see all kinds of carriers come and go, without
having a chance to develop as a real player in the region. It's been just
over six years we are hearing about privatisation of our company. To this
date, nothing has happened. How much longer can this process take?
Most of the airlines in the Caribbean have either closed their doors or
regrouped multiple times, or simply changed their name and continued
business as usual. Air Caraïbes is a consortium of Air Guadeloupe, Air
Martinique, Air St. Barths and Air St. Martin. Air Caraïbes started out of
the necessity of having a regional airline respond to the needs of the
French Caribbean territories. The company was founded in July 2000 through
the merger of various local airlines (Air Guadeloupe, Air Martinique, Air
St. Barthélémy, and Air St. Martin).

In 2002, the company flew 445,000 passengers and earned 68 million euros
in revenues. It is part of the Carib Sky Alliance, an airline alliance
that comprises, in addition to Air Caraïbes, the following airlines:
Leeward Islands Air Transport and Winair. It was established as Societé
Caribienne de Transports Aériens and started operations in September 1994.
It started service to Paris from Guadeloupe and Martinique in December
2003 using an Airbus A330-200. The airline is owned by Groupe Dubreuil (85
per cent) and has 627 employees. What's amazing is how it developed in such a short period of time, over atime-span of 10 years, to become a major player in the region and in the trans-Atlantic market, whereas Winair has been around for 47 years and is still begging left and right to keep its operation afloat, without any help from its shareholders and local representatives.

It's always been a political football, and its time we get serious and
create a local airline with international affiliation that can serve the
people of St. Maarten/St. Martin and the surrounding islands with dignity
and pride, for all of us who live from this profession that is aviation.
When the airport created its master plan, wasn't Winair already present?
How could they neglect the fact of its existence, since Winair is the
second carrier at the airport in terms of movement? It's hurtful when you
hear of Commissioner Frans Richardson, who is in charge of Aviation
Affairs, like all the other commissioners before him, always leaving the
island to attract airlines to provide the necessary airlift to support our
tourism product, when they neglect a very instrumental tool that has all
the potential to surpass their expectations.

Winair forever wishes that, one day, we could have a local airline that
could employ 627 St. Maarteners. It's just a wish, Commissioner
Richardson. Let's get the ball rolling – we know you are capable and have
a passion for the industry.

Then we have Insel Air, a company operational since 2006 that started with
one 19-seat-capacity aircraft; today in 2010, four years later, with a
combined fleet of four MD-82 and -83 aircraft with seating capacity of 152
passengers, and 15 destinations later, they are reporting a profit of NAf.
2 million in 2008 with annual revenue of 230 million euros.

The above examples are there to be observed and to question what makes
those companies operational successes and Winair not, since they all
prosper within our region. Our guess would be: they have the political
support and will, which we find is absolutely missing, from Winair's
standpoint, when you read Minister Duncan's article, both from the Central
and local governments.

We the pilots believe that the time has come either for Winair to grow on
its own or merge with a reputable carrier so that we could have our
rightful place within the aviation market, which we have shared for 47
years. Remember well, we have suffered our dues and never had any help –
never had the political will – and we are still able to meet our payroll
and financial obligations towards our creditors. For that we must
congratulate our Managing Director for keeping our airline in flight, with
an impeccable safety record.

Our only concern thus far is, with country status just short of five
months away, and elections pending for our new country representative,
until today, not one of our political representatives, either at the
Central or local level, has outlined the aviation protocol where it
concerns Civil Aviation Matters with respect to Country St. Maarten.

Pertaining to our Civil Aviation Department, we heard about a service
level agreement (SLA) with Country Curaçao, but how is this possible since
Curaçao hasn't had a local representative here in St. Maarten for over 10
years, and they are also suffering a shortage of qualified personnel to
carry our their work in Curaçao?

Because of the inexperience of our local officials in the aviation field,
government can tap into its local aviation professionals. Both local
pilots and ATC controllers have years of experience and can assist
government in drafting policies, etc., for St. Maarten's Aviation
Department.

You constantly hear in the media that we need all hands on the deck. It's
time to walk the talk. Let's get all hands on the deck, and we the
professionals within the aviation community are willing to get involved
and make our rightful contribution to our country, and safeguard the
profession for our young, inspired St. Maarteners, so that they too will
have a chance within Country St. Maarten to be a part of this wonderful
profession.

Concerned Winair Pilots

Source: The Daily Herald, published Wednesday, 16 June 2010
For all Winair flights: http://www.winair.nl.
-------------------------------------------------------------------------------------------
6. TRAVEL TIP: Inquire About Our Cancellation Policies
-------------------------------------------------------------------------------------------
Here are our Terms of Service:
Virtual Airline. AirStMaarten does not own nor operate its own aircrafts. We charter aircrafts or we book seats on Commercial Airlines for our customers. We have access to seats on 300 airlines to 5000 destinations worldwide. We also have access to a worldwide network of Charter Operators.
Reservations. After you submit a Reservation Request we will search for the best option and send you a Reservation Offer with an itinerary and payment instructions. The rates or fares quoted are subject to aircraft or seats availability and are valid for a limit period, after which they are subject to change without notice. Any change in itinerary will invalidate our Reservation Offer.
Payment Terms. Reservation Offers are payable upon receipt. Customers authorize payment by credit card by signing a creditcard authorisation form and faxing this back to us. We accept all major creditcards (Visa/Mastercard, Discover and AMEX). Customers can choose to pay via banktransfer, international bankwire or remit money via a money remittance service. Once payment has been received and processed, we will send out a Reservation Confirmation.
Cancellation Policy. The Charter Operator's confirmation terms or the Airline's e-tickets will reflect the cancellation policy.
Final Confirmation. AirStMaarten will confirm the Airline or Charter Operator details within 24 hours of a flight at the latest with check-in instructions and meet & greet information. In the case of a "Shared Charter", customers understand and agree that they will be sharing their flight with other customers.
Looking forward to being of assistance to you in planning your next trip to St. Barths.
-------------------------------------------------------------------------------------------
7. AGENDA: Cocktail Party at The Normandie Hotel - July 24th, 2010
-------------------------------------------------------------------------------------------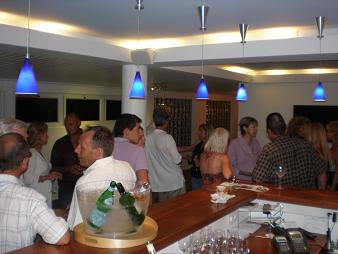 If you missed the Cocktail Party that was held at The Normandie Hotel on Friday, June 4th, 2010, for friends of AirStMaarten, The Normandie Hotel & Villa Case et Cuisine, then here is your chance to attend the next Cocktail Party to be held on Saturday, July 24th, 2010, at 6pm.
We are once again inviting all clients and forum friends who will be on the island to attend and enjoy drinks with friends. The dress code is casual dress.
The Cocktail Party at The Normandie Hotel will be hosted by Terrance Rey, Wendy Carlton and The Normandie Hotel's new Manager, Eula Prada, a long time resident of St. Barths and entrepreneur on the island.
Other events on St. Barths in the month of July 2010:
July 2010
July 14, Bastille Day. Lots of activities & celebrations, including very cool fireworks. In addition, summer is a period when each area of the island has a day of fun and celebration – very local & colorful parties to which all are welcome.
July 14
Bastille Day — Fireworks and dancing on the dock.
Quai Général de Gaulle, Gustavia

July 17
Anse des Cayes Fête — Games, competitions and various activities
organized in the village of Anse des Cayes

July 24-25
Northern Neighborhoods Fête — Tournaments, various games, dance performances, raffle, and music, ASCCO
-------------------------------------------------------------------------------------------
8. ADVERTISEMENT: Save NOW For Your Next St. Barths Trip...
-------------------------------------------------------------------------------------------
... and earn 10% in savings.
Last year it was the United States economy. This year it is the European economy. When will they get in sync and recover together?

Right now, you have an opportunity to save some money in anticipation of your next trip to St. Barths. (You know you will be coming again!).

Take advantage of the declining value of the Euro and lock-in your SXM-SBH-SXM travel cost now.

Buy a gift certificate for travel between November 15 and April 15 and save money.
Buy a $500 Gift Certificate and pay only $450
Buy a $1000 Gift Certificate and pay only $900
Buy a $2000 Gift Certificate and pay only $1800
Buy a $4000 Gift Certificate and pay only $3600
Buy a $5000 Gift Certificate and pay only $4500
Gift certificates must be used for purchases of single bookings of our shared charters or private charters.

Only the $500 gift cerficates can be used for single bookings for commercial tickets with Winair or St. Barth Commuter.

If you buy now, I will waive the regular 4% creditcard surcharge on all gift certificate purchases. If you buy $1000 or more, I will throw in a gift coupon for complimentary VIP Services worth $125.

Email us to place your order now.

Best regards,

Terrance Rey

PS: If you are a travel agent or villa owner, please email me via sales@airsxm.com for more information about our new incentive programme.
-------------------------------------------------------------------------------------------
9. CUSTOMER SERVICE: How To Book With AirStMaarten
-------------------------------------------------------------------------------------------
Booking Procedure & Reservation Information
Submit a reservation request online at www.airsxm.com. Once we receive your request, we will send you a Reservation Offer for your consideration. Once you accept our proposal, we will require payment. You can use our credit card form to send us your credit card information. We accept all major credit cards such as Visa, MasterCard, Discover and American Express. You can also pay by bank transfer, check, cash or Paypal. Once payment is received, we will book the commercial flight or private charter and send you a Reservation Confirmation.
If you have requested additional services such as VIP Transfer Services, we will send you a Final Confirmation containing all details of your travel itinerary and services booked. And that's how you book with AirStMaarten.
Other Customer Service Resources:
Our Shared Charters concept explained in full detail
VIP Transfer Services through Princess Juliana Int'l Airport
Island Concierge Services on St. Maarten and St. Barths
Read what our satisfied clients are saying about our service
Ticket Insurance
We also accept payments via Paypal
St. Maarten Villa Rentals
St. Maarten Yachting and Sailing Charters
Sign up for our email newsletter service
-------------------------------------------------------------------------------------------