NEW CONCEPT LAUNCHED: SHARED CHARTERS TO ST. BARTHS
AirStMaarten offers 'Shared Charters' from four different connection points via St. Maarten, Anguilla, Antigua and San Juan to St. Barths.
St. Maarten - Terrance Rey, founder of Caribbean's first and only virtual airline called AirStMaarten, launches a new concept in private charter service to St. Barths with connecting flights from St. Maarten, Anguilla, Antigua and San Juan, Puerto Rico. AirStMaarten will offer private charters whereby clients can purchase seats on the aircraft instead of paying for the whole plane as is normal with a privately chartered aircraft.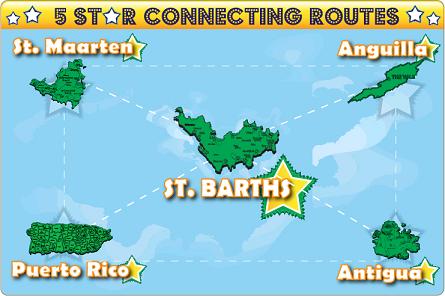 Terrance Rey first started AirStMaarten in 2003 offering transatlantic flights from The Netherlands to St. Maarten, Curacao and Aruba with the now defunct Air Holland. After the demise of this Dutch charter operator, AirStMaarten focused it's attention on the Dutch Caribbean regional market by offering flights with commercial carriers such as Dutch Antilles Express (now known as DAE), Inselair, Tiara Air, Winair, Air Caraibes, St. Barth Commuter and TransAnguilla, before ultimately finding its niche market in 'Shared Charters' to St. Barths.

"The idea was simple." explains Rey. "Book private charters from St. Maarten, Anguilla, Antigua and San Juan to St. Barths and sell the seats individually at a premium price higher than the commercial carriers, such as Winair, Air Caraibes, Tradewind Aviation, Carib Aviation and St. Barth Commuter, and include VIP Services with Meet & Greet, Immigration Clearance, Escort, Luggage Pick Up and Transfers."

"The only requirement for us to be able to schedule and execute a shared charter is that we have to have a minimum of 4 passengers on a flight." Rey continues.

Terrance Rey tells clients: "When you can't afford the whole plane, share the aircraft with others by paying only for the seat you occupy."

The concept was initially launched in November 2006 and tested thoroughly throughout 2007 before the optimum price per seat was determined that delivered the required amount of passengers to make the concept financially viable. "We found that the optimum price guaranteed that we could manage to break even with a minium of four passengers per flight." explains Rey.

"We will be utilizing aircrafts such as the 9-seater twin-engine Britton Norman Islanders and the 9-seater Cessna 208B Caravans." Rey says. Ïn 2009 we hope to put in DeHavilland DHC Twin Otter 19-seater aircrafts with executive style interior." continues Rey. "The demand for larger group charters makes it necessary to utilize bigger aircrafts with more seating capacity."

St. Barths' airport has limitations making it necessary to only operate small commuter aircrafts into St. Barths. According to Rey: "The biggest aircraft we can safely land in St. Barths is a Twin Otter size aircraft or Cessna Grand Caravan."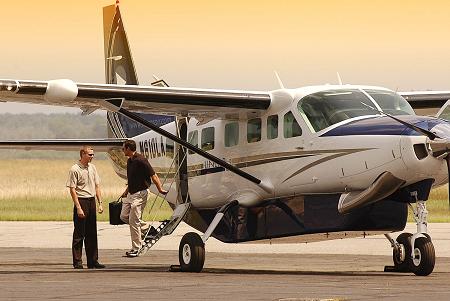 AirStMaarten offers commercial flights from St. Maarten, Anguilla, Antigua and San Juan, Puerto Rico, to St. Barths. "Many of our clients arrive on commercial airlines, but the connection times are not ideal." says Rey. "So we are looking to provide seamless connections with our own private charter flights scheduled and operated as shared charters."
Rey continues: "Not everyone can afford to privately charter a whole aircraft for themselves, yet a private charter offers travelers the ideal solution for flying at their prefered times."

St. Barths' airport has another limitation in that the airport closes at sunset. This necessitates the need for flights to arrive in St. Barths before sundown. "Clients arriving late into any of the four connection points to St. Barths, such as St. Maarten, will either have to overnight, take the ferry or charter a speed boat." says Rey.

"Shared charters will not only help us alleviate the stress of same day connections to St. Barths," Rey explains. "but will also help us accommodate our clients looking for affordable connections into St. Maarten, Antigua and San Juan".
Terrance Rey concludes. "A new era in Caribbean private charter service has been launched to provide seamless connections via San Juan, Anguilla, Antigua and St. Maarten to St. Barths between inbound jet flights with the shared private charters we provide between these islands."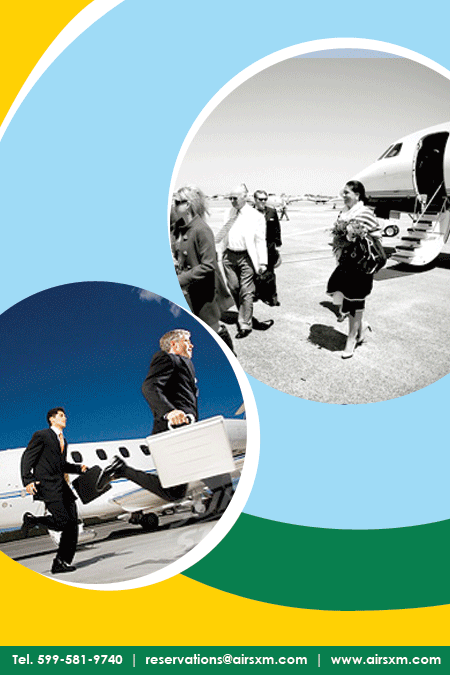 Click here to book a shared charter directly online now.

Click here to see the scheduled shared charter flights to St. Barths
Click here to read what our satisfied clients are saying about our service to St. Barths