The AirStMaarten Newsletter is professional with a personal touch, informative and to the point with news, opinions, background information, articles and promotions.
If you wish to subscribe to our mailinglist, click here or send an email to mailinglist@airsxm.com. We never share our emailaddresslist with others.
We appreciate your trust and respect your privacy.
---
In this March 2015 issue:
---
1. INTRO: A New Cargo Facility For SXM Airport
2. PROMO: ARE YOU A TRAVEL AGENT?
3. ARTICLE: "IF AIRLINES RAN AIRPORTS 2" by Terrance Rey
4. SPONSOR MESSAGE: Book Cheap Tickets Online At CheapoAir
5. NEWS ITEM: St. Maarten SXM Airport to Expand Cargo Facility
6. TRAVEL TIP: How To Get Group Discounts With AirSXM To St. Barths
7. AGENDA: New AirSXM Blog Coming Soon
8. ADVERTISEMENT: Book Our Speedboat Charters To St. Barths
9. CUSTOMER SERVICE: How To Book With AirStMaarten
---
INTRO:
A New Cargo Facility For SXM Airport
---
Dear reader,
In our business there is a saying: "Cargo can't complain." In order not to be disrespectful to our discerning clients, let's take that expression to mean that carrying cargo can be very lucrative and requires little to no attention during flight.
To lessen the need for further complaints in the cargo service business, SXM Airport is set to give its cargo facility a multi-million dollar facelift. See news article below. A facelift that will also be symbolical of the steady growth of the volume of cargo in and out of St. Maarten by air.
If there is still one complaint that needs to be addressed where cargo is concerned at SXM Airport is the level of the additional concession fee per kilo cargo services providers have to pay the airport operating company to use the new cargo facilities. I guess there is one thing cargo can complain about now.
Best regards,
Terrance Rey
Publisher/Editor
PS
: If you are a
travel agent
, a
concierge services provider
or a
private jet operator
and you need assistance for your clients transitting through St. Maarten SXM Airport, you can contact me by emailing
sales@airsxm.com
.
Advertorial

---
In case you are reading about AirStMaarten's private charters program for the first time, here is some background information on our shared charters.
WHAT ARE SHARED CHARTERS?

A Shared Charter is when you book a Private Charter and you Only Pay for the Seat You Occupy. Not for the whole aircraft. AirStMaarten has been successfully organizing shared charters to St. Barths since November 2006.
HOW OUR SHARED CHARTERS WORK

Travel Agents and clients book our shared charters for seamless connections and hassle-free transfers to St. Barths and surrounding islands such as Anguilla, St. Kitts, Nevis, St. Eustatius, Antigua and Tortola.
HERE IS HOW OUR SHARED CHARTERS WORK...

1) If 1 or 2 people request to share a private charter, the shared charter is scheduled.
2) Once 3 or 4 people book the shared charter, the shared charter is confirmed and you are good to go!
If the shared charter is not confirmed, passengers are booked on a regular commercial flight with complimentary VIP Services to ensure their transit is smooth and hassle-free.
Visit
www.sharedcharters.com
for more information, scheduling and availabilities.
---
Adformercial:
StMaartenTours.info offers you the opportunity to book your island tours in advance to your arrival on St. Maarten, whether for the day by cruise ship, or during your vacation stay on the island. We have a wide range of island tours to choose from, including air tours, city tours, beach tours, mountain tours, historical tours, shopping tours, restaurant & bar tours, all day tours, jeep safari tours and our various popular water sports activities. Visit St. Maarten Tours, Trips, Transfers, Excursions and Taxi Services!
Click here!

---
2. PROMO:
ARE YOU A TRAVEL AGENT?

---
IF YOU ARE A TRAVEL AGENT...

Email our Sales Department at AirSXM.com for information our attractive pre-season travel agency discounts for private and shared charters and VIP services to St. Barths. We are offering significant agency discounts on charters booked for travel during the 2015-2016 winter season. Contact our Sales Department for more information on our agency discount rates.

AIRSTMAARTEN
P.O. Box 5245, Philipsburg, St. Maarten
Tel. +1 (721) 581-9740, Cell: +1 (721) 523-3564, Fax: 1-866-503 0347
Email: sales@airsxm.com
---
3. ARTICLE:
"If Airlines Ran Airports"
---
"IF AIRLINES RAN AIRPORTS TOO"
By Terrance Rey
This is a follow-up editorial to last months "If Airlines Ran Airports" opinion piece.
Apparently, others are of the opinion that is airlines operated airports, they would charge their competitors exorbitant fees to use 'their' airport.
Not only that, they would also give themselves preferential treatment, allot themselves the best slots, gates and terminals and give their passengers the full red carpet treatment.
Ahum, have you been to Paris lately? How about Dubai? Or Jeddah International Airport in Saudi Arabia?
Anyhow, the point is that we have to realize that there should be synergy between all the stakeholders in the airport business. It should not be that the airport is the only one to benefit and profit from the transportation services provided by the airlines. It is a partnership where it should be about it being a win-win situation for all stakeholders involved, be it the airlines, the airport, the government, the destination and all the other services providers in and around the airport.
But if one day airline companies choose to invest in the acquisition of airport management companies around the world, we may just see a development where certain airline companies are calling the shots when it comes to who gets the best slots, gates, terminals and ultimately the red carpet rolled out for their passengers.
---
Terrance Rey is owner and managing director of Let's Travel, Travel Anywhere and AirStMaarten. Terrance Rey has 15 years experience in the travel business as a travel agent, tour operator, charter broker and as an internet travel entrepreneur. You can email Terrance Rey directly via terrance@letstravelsxm.com with any questions you may have relating to your international travel needs.
Advertisement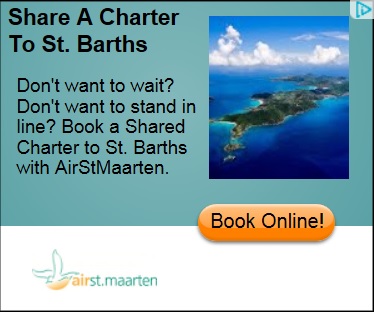 Visit
http://www.airsxm.com/vipservices
and
http://www.sharedcharters.com
for more information.
---
4. SPONSOR MESSAGE:
Book Cheap Tickets Online At CheapoAir
---
---
5. NEWS ITEM:
St. Maarten SXM Airport to Expand Cargo Facility
---
ST. MAARTEN SXM AIRPORT TO EXPAND CARGO FACILITY



Simpson Bay, St. Maarten --
Following a public bidding process by invitation in which some 14 contractors participated, Talisien Construction NV has been selected as main contractor for the renovation works of the Cargo Building of the Princess Juliana International Airport, SXM. The selection was based on the contractor's price, experience, and good reputation in big construction works.
After contract negotiations with SXM Airport, which was assisted by its legal representative, Lexwell, and with the Supervisory Board of Directors' approval, the multi-million dollar agreement was signed between Talisien Construction NV and PJIAE NV to commence the construction works for the renovation of the Cargo Building.
According to LaBega, the renovation of the Cargo Building is necessary given the importance of positioning SXM Airport as a cargo hub for the sub-region.
"Of course, we cannot emphasize enough the important role cargo plays for SXM Airport and our core partners, the airlines," she added.
Groundbreaking for the Cargo Building renovation works is expected to take place this month, and estimated to be completed by March 2016. The construction will be executed in two phases in order to allow the Cargo Operators to remain operational. Temporary offices will be constructed to accommodate the cargo handlers during the construction period.
The Cargo Building has been in need of renovations and improvement for a long time, and is part of the Capital Improvement Program that SXM Airport embarked upon at the beginning of 2013, after securing the funds on the international financial market in December 2012. Cargo and mail movements at SXM Airport have been steadily increasing over the last five years, going from 1,983 tonnes in 2009 to 3,010 tonnes in 2013, a jump of about 52%.
The steel structure of the new Cargo Building will be manufactured in the Netherlands by known steel structure manufacturer, Van Sluisveld. The existing steel structure is still in top shape, and will remain. However, another steel structure will be added in order to add a new floor, and create eight additional office spaces, and a canteen.
The renovations of the Cargo Building will include the re-organization of office spaces, more cargo storage, and parking areas. It will also involve the upgrading and expansion of the restrooms, the addition of a new floor, offices, and a canteen, and will also have to comply with Fire Department Regulations.
If you want to have cargo flown to St .Maarten on any of our empty legs or deadleg flights of our private charters, just email
sales@airsxm.com
.
---
6. TRAVEL TIP:
How To Get Group Discounts With AirSXM To St. Barths
---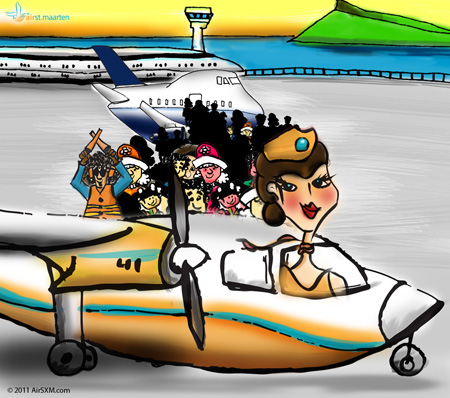 If you are part of a group of at least 10 persons - even if the party is spread out in different groups of people ranging from couples or families - and you want to benefit from AirSXM's group discount service, please email us via sales@airsxm.com to request a group discount code for your party. Then when the people in your party submit their own reservation request via
http://www.airsxm.com
they can fill in the group discount code in the comments field at the end of the reservation request process.
Whatever you want do, we at AirSXM are here to help you plan your next flight into St. Barths, be it via commercial flight, private charter, shared charter or helicopter charter. And don't forget to request our VIP Services as well.
Visit
http://www.airsxm.com
to select your preferred flight option. We also accept bookings up to over a year in advance as well. Just don't forget to request your promo code if your traveling with a diverse party of 10 persons or more.
Adformercial: Fired Travel Agent Reveals How To Get Dirt Cheap Airfare Tickets! I Was Fired By The Airlines, So This Is My Revenge! This Angry Ex-travel Agent Will Reveal The Deepest, Darkest Secrets Of The Airline Industry To Show How You Can Obtain Airline Tickets At Ridiculously Low Costs! Click here!
---
7. AGENDA:
New AirSXM Blog Coming Soon
---
WHAT TO EXPECT FROM US IN 2015
The best wishes for the New Year.
Updated website with booking options for Flights, Hotels, Car Rentals and Vacation Packages.
Updated website with Live Chat integration.
More tweets, postings and sharings on Social Media.
More routes, more services and more aircrafts added to our Fleet of available aircrafts through our charter operators.
And now the latest addition will be the AirSXM Blog webpage.
Stay informed on developments at AirSXM, Inc., by subscribing to our mailinglist,
click here
or send an email to
mailinglist@airsxm.com
. We will never share our emailaddresslist with others. We appreciate your trust and respect your privacy.
---
8. ADVERTISEMENT:
Book Our Speedboat Charters To St. Barths
---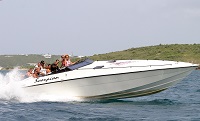 If you are afraid of flying and landing in St. Barths; if the ferry service is too slow or too bumpy for your taste; if all flights to St. Barths are full; or if the St. Barths is closed due to sunset, you can charter our speedboat service to St. Barths.
Our speedboat charters are powered by Scorpion Trips. Scorpion is more than just a boat, it's an experience. Step aboard the 37 foot offshore speed boat and enjoy one of the fastest boats in the region.

Scorpion's speed boat runs on twin 600 horse power Mercruiser engines. A total of 1,200 horse power! Scorpion's speed boats can also carry passengers in an unsurpassed level of comfort and style at regular cruising speeds which ensure comfort and speed. Scorpion has an open bar with cold drinks and a secure cabin space for any luggage etc.

So surf to
StMaartenTours.info
to book a speed boat charter to St. Barths, Anguilla and Saba.
Email us now via info@stmaartentours.info for more information about our Speedboat Charters.
---
9. CUSTOMER SERVICE:
How To Book With AirStMaarten
---
Booking Procedure & Reservation Information
Submit a reservation request online at www.airsxm.com. Once we receive your request, we will send you a Reservation Offer for your consideration. Once you accept our proposal, we will require payment. You can use our credit card form to send us your credit card information. We accept all major credit cards such as Visa, MasterCard, Discover and American Express. You can also pay by bank transfer, check, cash or Paypal. Once payment is received, we will book the commercial flight or private charter and send you a Reservation Confirmation.
If you have requested additional services such as VIP Transfer Services, we will send you a Final Confirmation containing all details of your travel itinerary and services booked. And that's how you book with AirStMaarten.
Other Customer Service Resources:
Our Shared Charters concept explained in full detail
VIP Transfer Services through Princess Juliana Int'l Airport
Island Concierge Services on St. Maarten and St. Barths
Read what our satisfied clients are saying about our service
Ticket Insurance
We also accept payments via Paypal
St. Maarten Villa Rentals
St. Maarten Yachting and Sailing Charters
Sign up for our email newsletter service
---