The AirStMaarten Newsletter is professional with a personal touch, informative and to the point with news, opinions, background information, articles and promotions.
If you wish to subscribe to our mailinglist, click here or send an email to mailinglist@airsxm.com. We never share our emailaddresslist with others.
We appreciate your trust and respect your privacy.
---
In this August 2014 issue:
---
1. INTRO: The Latest Developments In St. Barths
2. PROMO: ARE YOU A TRAVEL AGENT?
3. ARTICLE: "When Might More Be Less?" by Terrance Rey
4. SPONSOR MESSAGE: Book Cheap Tickets Online At CheapoAir
5. NEWS ITEM: Update #4 On AirSXM Request To Do Scheduled Flights
6. TRAVEL TIP: How To Get The Best Deals In St. Barths
7. AGENDA: Coming Soon! Direct Flights To Miami
8. ADVERTISEMENT: Book Our Speedboat Charters To St. Barths
9. CUSTOMER SERVICE: How To Book With AirStMaarten
---
INTRO:
The Latest Developments In St. Barths
---
Dear friends and clients,
It's been a while since I did a restaurant review in the context of my SBHdining.com (DineSBH.com) service and the next time the honor may just go to Côté Port, the newest restaurant by Hervé, of Le Rivage fame, and located on the west side of Gustavia Harbor on the Rue Jeanne d'Arc.
The atmosphere at Côté Port was great and we sat on the waterside right next to all the boats docked at the pier. There were some children running on the dock and playing in the water, which was a bit distracting because we kept glancing at them to make sure none were falling into the water.
Like I said, the atmosphere was great and the waiters were quick on their feet and ready to serve. There was lively chatter from the other patrons and you could clearly see everyone was enjoying themselves. The lively chatter may also have been a result of the music that was a bit on the loud side.
My entree was my all time favorite starter meal: the beef carpaccio, garnished with parmesan shavings, and the choice for the main course went to the glazed duck with mashed potatoes. I missed my molten chocolate cake and had to make do with 'Churros' with hot chocolate sauce. Dinner was topped off with vanilla rhum and a cup of expresso coffee.
In the July 2014 issue, I wrote about the latest developments in St. Barths. In this issue we will look at the question "When Might More Be Less" in terms of hotel development in St. Barths. Eventhough more hotel properties may be a good boost for the island's economy, especially during the construction phase, many locals are worried that the island is already congested with enough resort properties.

Construction always requires transportation and air transportation into St. Barths is what we at AirStMaarten do. That means there will be more need for commercial flights and charters into St. Barths and that is always good for business, especially where our
Shared Charters programme
is concerned.
Read more about some of the concerns of locals on these new luxury resort projects further down in this issue. Directly here below, read about our low season specials on our shared charter programme to St. Barths for the upcoming 2014-2015 season. We have a sale now going on on the St. Barths route. See information below....

PRIVATE CHARTERS TO ST. BARTHS NOW ON SALE

AirSXM Travel Vouchers Now On Sale For 2014/2015 Private Charters Season from St. Maarten to St. Barths with AirStMaarten|AirSXM.com (Traveling Period November 2014 to April 2015).
AirStMaarten|AirSXM.com now paying very interesting commissions to travel agents on all private charters sold during the 2014/2015 high season for reservations submitted before September 30th, 2014!!!
Aircraft types to be used: 9-seater BN Islander and 5-seater Piper Aztek.
All reservation requests submitted by September 30th, 2014, will receive a significant percentage off as a discount. This offer is only for travel agents and valued clients. Please mention promo code
AIRPC2014NL
when submitting your reservation request online at
www.airsxm.com
.
In case you are reading about AirStMaarten's private charters programme for the first time, here is some background information on our shared charters.
WHAT ARE SHARED CHARTERS?

A Shared Charter is when you book a Private Charter and you Only Pay for the Seat You Occupy. Not for the whole aircraft. AirStMaarten has been successfully organizing shared charters to St. Barths since November 2006.
HOW OUR SHARED CHARTERS WORK

Travel Agents and clients book our shared charters for seamless connections and hassle-free transfers to St. Barths and surrounding islands such as Anguilla, St. Kitts, Nevis, St. Eustatius, Antigua and Tortola.
HERE IS HOW OUR SHARED CHARTERS WORK...

1) If 1 or 2 people request to share a private charter, the shared charter is scheduled.
2) Once 3 or 4 people book the shared charter, the shared charter is confirmed and you are good to go!
If the shared charter is not confirmed, passengers are booked on a regular commercial flight with complimentary VIP Services to ensure their transit is smooth and hassle-free.
Visit
www.sharedcharters.com
for more information, scheduling and availabilities.
In this month's issue you will read why you will want to subscribe to our newsletter service to stay updated on developments going on at AirSXM | AirStMaarten.
Happy Readings!
Terrance Rey
Adformercial: StMaartenTours.info offers you the opportunity to book your island tours in advance to your arrival on St. Maarten, whether for the day by cruise ship, or during your vacation stay on the island. We have a wide range of island tours to choose from, including air tours, city tours, beach tours, mountain tours, historical tours, shopping tours, restaurant & bar tours, all day tours, jeep safari tours and our various popular water sports activities. Visit St. Maarten Tours, Trips, Transfers, Excursions and Taxi Services! Click here!
---
2. PROMO:
ARE YOU A TRAVEL AGENT?

---
IF YOU ARE A TRAVEL AGENT...

Email our Sales Department at AirSXM.com for information our attractive pre-season travel agency discounts for private and shared charters and VIP services to St. Barths. We are offering significant agency discounts on charters booked for travel during the 2014-2015 winter season. Contact our Sales Department for more information on our agency discount rates.

AIRSTMAARTEN
P.O. Box 5245, Philipsburg, St. Maarten
Tel. +1 (721) 581-9740, Cell: +1 (721) 523-3564, Fax: 1-866-503 0347
Email: sales@airsxm.com
---
3. ARTICLE:
When Might More Be Less?
---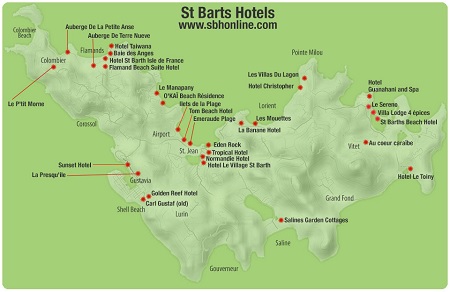 Click on image above to view enlarged version online at SBHonline.com

When Might More Be Less
by Terrance Rey
Whilst the need for airlift that new resort development and construction work on hotel projects generate is indeed good for business for us as air services providers at AirStMaarten, the effects on the island's tourism product can be negative if not managed properly. I could just as well be talking about St. Maarten, but that island I am referring to is St. Barths.
I was recently informed that the Collectivité of Saint Barthélemy denied the permit for a resort property above Gustavia on the site where the old Carl Gustaf hotel used to be because the developers had requested a building permit for 126 rooms and the Collectivité found that to be way too much rooms. It is obvious that the developers will have to downsize this project.
The number of rooms initially planned for this hotel development raises question if the present occupancy rate on the island warrants such disproportionately out of scale amount of rooms when one considers that the existing hotels are rarely all filled, begging the question as to what the point is of more empty luxury hotel rooms.
A local friend explained to me the island is already overcrowded and new hotels mean more cars, more help, more housing for the help, more need for laundry, leading to more pollution, and so on. My friend is concerned that the island is dangerously near the tipping point of too many people, too many cars, too much garbage, no sustainable energy solution, no reasonable housing for staff and restaurants getting worse and worse. "St. Barth may be in for a big wake up call sometime soon." my friend states.
In Flamands, the site of the other luxury resort development on that side of the island, which has obtained permission for its 46-room project, is also plagued by congestion. I am told that this new hotel property will be built in an elongated fashion with the head on the beach side, resulting in a rectangular structure extending inland from the beach as there is no space in the width to build. Rumored has it that the developers offered a significant amount of money to buy another property on the island, but without any luck so far.
From our perspective here at AirStMaarten, more hotel properties, or existing hotel properties under new management, leads to more demand for airlift into the islands and, in particular, of St. Barths. The Eden Rock, led by David Matthews, is a prime example as we are getting more business from Antigua into St. Barths as a direct result of the promotion in the UK market, and other countries ranging from Lithuania to Malaysia, for the Eden Rock's hotel and villa properties.
But looking at the other side of the coin, especially from a local perspective, raises the question when more might be less. As in, might more development lead to less attraction for St. Barths as an exclusive destination? I am of the opinion that all progress come at a price, however, proper management of the island's development must go hand in hand with a proper and sustainable management of the island's resources to keep the island enjoyable for both its local residents and visitors alike.
We at AirStMaarten supports such a sustainable development as we do not want to see the goose that lays the golden eggs slaughtered by unbridled development and so we end this article by publishing the following prayer for the Collectivité and the people of Saint Barthélemy. It is the Serenity Prayer by Reinhold Niebuhr (1892-1971):
God grant me the serenity
to accept the things I cannot change;
courage to change the things I can;
and wisdom to know the difference.

---
4. SPONSOR MESSAGE:
Book Cheap Tickets Online At CheapoAir
---
---
5. NEWS ITEM:
Update #4 On AirSXM Request To Do Scheduled Flights
---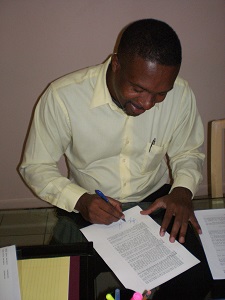 PHILIPSBURG--CEO of AirStMaarten, Terrance Rey, recently revealed that last year October 2013 he had quietly submitted a request to the Ministry of Transportation on St. Maarten in order to obtain a new business license to do scheduled flights.
As President of the Board and Managing Director of the company, Rey, had had several meetings with authorities at the Department of Civil Aviation in St. Maarten before a positive advice was rendered by the department.
The advice had followed its way via the various departments within the Ministry of Transportation before finally reaching the minister's desk for signing.
UPDATE #2
: The Minister of Transportation has signed off on the business license request.
UPDATE #3
: The Ministry of Transportation has released the signed business license to the management of AirSXM. Below are the scans of business license consisting of two pages. The next step is to obtain the economic certification of the company as a full-fledge airline company. That part of the process will result in the Economic Operating Certificate (EOC). Once that document is received, the process to achieve flight certification will be initiated by the company's management in order to obtain an Air Operator's Certificate (AOC).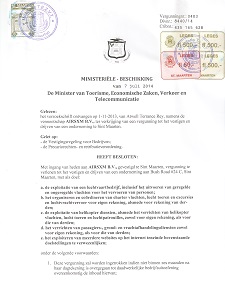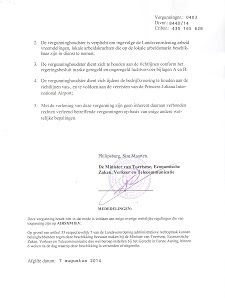 UPDATE #4: To finance the business plan and obtain the Economic Operating Certificate (EOC), AirSXM is now looking to raise funding from investors and business partners (Terrance Rey, Travel Anywhere Inc., Let's Travel and management company, Anykey Services N.V.). The objective is to raise first-round funding of $1.2 million US Dollars.

Stay informed on developments at AirSXM, Inc., by subscribing to our mailinglist, click here or send an email to mailinglist@airsxm.com. We will never share our emailaddresslist with others. We appreciate your trust and respect your privacy.
---
6. TRAVEL TIP:
How To Get The Best Deals In St. Barths
---
Whether you are booking a hotel or a villa, the best way to get the best deals in St. Barths is simply to book early. We have customers who book their accommodations way in advance. Sometimes up to a year in advance. The reason being that the early bookers get the best deals from the owners or rental agencies.
As a matter of fact, even if it is just for once in your life, rent a luxury villa in St. Barths for your next visit and stay in St. Barths and spoil yourself rotten. The top luxury villas in St. Barths are absolutely wonderful and have amenities you can only dream of. So look into renting a luxury villa in St. Barths. If not for yourself, do it for your loved ones, family or that secret lover you want to get away with in paradise.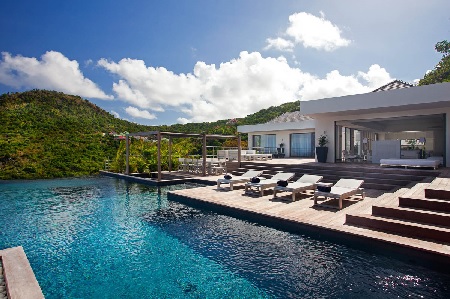 Whatever you do, we at AirSXM are here to help you plan your next flight into St. Barths for your luxury stay at any of St. Barths's top villas, be it via commercial flight, private charter, shared charter or helicopter charter. And don't forget to book our VIP Services as well. Visit
http://www.airsxm.com
to select your preferred flight option. We also accept bookings up to over a year in advance as well.
Adformercial: Fired Travel Agent Reveals How To Get Dirt Cheap Airfare Tickets! I Was Fired By The Airlines, So This Is My Revenge! This Angry Ex-travel Agent Will Reveal The Deepest, Darkest Secrets Of The Airline Industry To Show How You Can Obtain Airline Tickets At Ridiculously Low Costs! Click here!
---
7. AGENDA:
Coming Soon! Direct Flights To Miami
---
In conjunction with a new airline operator based in Miami, Florida, we will be offering direct flights to and from Miami starting December 2014. We will keep you updated as time passes and new developments are known. In the meantime, to gauge the market demand, you can submit a reservation request free of any obligations online at http://www.airsxm.com.

---
8. ADVERTISEMENT:
Book Our Speedboat Charters To St. Barths
---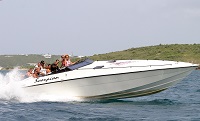 If you are afraid of flying and landing in St. Barths; if the ferry service is too slow or too bumpy for your taste; if all flights to St. Barths are full; or if the St. Barths is closed due to sunset, you can charter our speedboat service to St. Barths.
Our speedboat charters are powered by Scorpion Trips. Scorpion is more than just a boat, it's an experience. Step aboard the 37 foot offshore speed boat and enjoy one of the fastest boats in the region.

Scorpion's speed boat runs on twin 600 horse power Mercruiser engines. A total of 1,200 horse power! Scorpion's speed boats can also carry passengers in an unsurpassed level of comfort and style at regular cruising speeds which ensure comfort and speed. Scorpion has an open bar with cold drinks and a secure cabin space for any luggage etc.

So surf to
StMaartenTours.info
to book a speed boat charter to St. Barths, Anguilla and Saba.
Email us now via info@stmaartentours.info for more information about our Speedboat Charters.
---
9. CUSTOMER SERVICE:
How To Book With AirStMaarten
---
Booking Procedure & Reservation Information
Submit a reservation request online at www.airsxm.com. Once we receive your request, we will send you a Reservation Offer for your consideration. Once you accept our proposal, we will require payment. You can use our credit card form to send us your credit card information. We accept all major credit cards such as Visa, MasterCard, Discover and American Express. You can also pay by bank transfer, check, cash or Paypal. Once payment is received, we will book the commercial flight or private charter and send you a Reservation Confirmation.
If you have requested additional services such as VIP Transfer Services, we will send you a Final Confirmation containing all details of your travel itinerary and services booked. And that's how you book with AirStMaarten.
Other Customer Service Resources:
Our Shared Charters concept explained in full detail
VIP Transfer Services through Princess Juliana Int'l Airport
Island Concierge Services on St. Maarten and St. Barths
Read what our satisfied clients are saying about our service
Ticket Insurance
We also accept payments via Paypal
St. Maarten Villa Rentals
St. Maarten Yachting and Sailing Charters
Sign up for our email newsletter service
---