The AirStMaarten Newsletter is professional with a personal touch, informative and to the point with news, opinions, background information, articles and promotions.
If you wish to subscribe to our mailinglist, click here or send an email to mailinglist@airsxm.com. We never share our emailaddresslist with others.
We appreciate your trust and respect your privacy.
---
In this October 2014 issue:
---
1. INTRO: How To Help St. Barths Recover Hurricane Gonzalo
2. PROMO: ARE YOU A TRAVEL AGENT?
3. ARTICLE: "Where To Unwind and Leave the Stress Behind"
4. SPONSOR MESSAGE: Book Cheap Tickets Online At CheapoAir
5. NEWS ITEM: Dealing With The Threat of Ebola When Traveling
6. TRAVEL TIP: How To Get Group Discounts With AirSXM To St. Barths
7. AGENDA: Just Launched! Brand New Website For Let's Travel
8. ADVERTISEMENT: Book Our Speedboat Charters To St. Barths
9. CUSTOMER SERVICE: How To Book With AirStMaarten
---
INTRO:
How To Help St. Barths Recover Hurricane Gonzalo
---
Dear friends and clients,
The past month, our islands, St. Maarten and St. Barths and others, were hit by an unexpected storm that unexpectedly turned into a category 1 hurricane called "Gonzalo" that even went on to torment the island of Bermuda as a category 4 hurricane.

Viewing the aftermath of the hurricane online, someone posted a question asking "How can we help St. Barths?"

The answer to that question was simple: "Just stick to your plans to visit St. Barths because the island will be ready for the upcoming 2014-2015 high season."

The same goes for all the islands that were hit. Just come on down to the islands for your regular Caribbean vacation trips. The islands' residents were out the very next day cleaning up and getting their lives back on track.

The worst hit were the boating communities on St. Maarten and St. Barths as everyone thought it would just be a storm. But the weather system firmed up and turned in a hurricane as it bore down on the islands. No one was prepared for that.

The unexpected disaster, with even the lost of one sailor's life on St. Maarten, is not only an opportunity to bounce back, but also to build things better and stronger, both in the areas of homes, businesses and boats, and also with the island's economy and environment.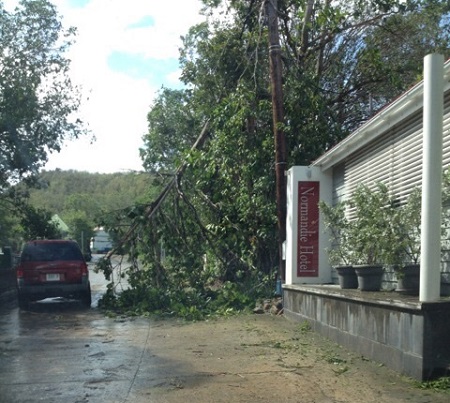 As I wrote in last month's issue, we need to go on vacations to get away from the hustle and bustle of our work environment for some time in order to build up our diminished energy levels back to its optimum level. We need vacations to fully enjoy the fine things of life, without having to worry about all the things going on in our jobs and businesses.

There are many excellent and fun-filled holiday destinations in the Caribbean and St. Barths is definitely one of the holiday destinations in the world that is capable of not only making you forget the hustle and bustle of your workplace but also giving you the fun of your life.

St. Barths is one of the most beautiful islands in the Caribbean. This Nature's gift to mankind combines the splendor of the Caribbean paradise mixed with European style. There are about 22 gorgeous beaches in this beautiful Caribbean island. There are over 90 restaurants on St. Barths, making it one of the best dining capitals in the Caribbean.
In last month's issue, I explained how St. Barths is the perfect getaway destination for couples who need to take a break and rejuvenate their energies, their bodies and their love life.
So if you want to help the islands recover, including our beloved St. Barths, just stick to your vacation plans of visiting the islands this year. You will be most welcomed and we will all be ready to welcome you. To make that possible, we have the following offers now on sale.

PRIVATE CHARTERS TO ST. BARTHS NOW ON SALE

AirSXM Travel Vouchers Now On Sale For 2014/2015 Private Charters Season from St. Maarten to St. Barths with AirStMaarten|AirSXM.com (Traveling Period November 2014 to April 2015).
AirStMaarten|AirSXM.com now paying very interesting commissions to travel agents on all private charters sold during the 2014/2015 high season for reservations submitted before October 31st, 2014!!!
Aircraft types to be used: 9-seater BN Islander and 5-seater Piper Aztek.
All reservation requests submitted by October 31st, 2014, will receive a significant percentage off as a discount. This offer is only for travel agents and valued clients. Please mention promo code
AIRPC2014NL
when submitting your reservation request online at
www.airsxm.com
.
In case you are reading about AirStMaarten's private charters programme for the first time, here is some background information on our shared charters.
WHAT ARE SHARED CHARTERS?

A Shared Charter is when you book a Private Charter and you Only Pay for the Seat You Occupy. Not for the whole aircraft. AirStMaarten has been successfully organizing shared charters to St. Barths since November 2006.
HOW OUR SHARED CHARTERS WORK

Travel Agents and clients book our shared charters for seamless connections and hassle-free transfers to St. Barths and surrounding islands such as Anguilla, St. Kitts, Nevis, St. Eustatius, Antigua and Tortola.
HERE IS HOW OUR SHARED CHARTERS WORK...

1) If 1 or 2 people request to share a private charter, the shared charter is scheduled.
2) Once 3 or 4 people book the shared charter, the shared charter is confirmed and you are good to go!
If the shared charter is not confirmed, passengers are booked on a regular commercial flight with complimentary VIP Services to ensure their transit is smooth and hassle-free.
Visit
www.sharedcharters.com
for more information, scheduling and availabilities.
In this month's issue you will also read
where to unwind and leave the stress behind
....
Happy Readings!
Terrance Rey
Adformercial: StMaartenTours.info offers you the opportunity to book your island tours in advance to your arrival on St. Maarten, whether for the day by cruise ship, or during your vacation stay on the island. We have a wide range of island tours to choose from, including air tours, city tours, beach tours, mountain tours, historical tours, shopping tours, restaurant & bar tours, all day tours, jeep safari tours and our various popular water sports activities. Visit St. Maarten Tours, Trips, Transfers, Excursions and Taxi Services! Click here!
---
2. PROMO:
ARE YOU A TRAVEL AGENT?

---
IF YOU ARE A TRAVEL AGENT...

Email our Sales Department at AirSXM.com for information our attractive pre-season travel agency discounts for private and shared charters and VIP services to St. Barths. We are offering significant agency discounts on charters booked for travel during the 2014-2015 winter season. Contact our Sales Department for more information on our agency discount rates.

AIRSTMAARTEN
P.O. Box 5245, Philipsburg, St. Maarten
Tel. +1 (721) 581-9740, Cell: +1 (721) 523-3564, Fax: 1-866-503 0347
Email: sales@airsxm.com
---
3. ARTICLE:
Where To Unwind and Leave the Stress Behind
---
"WHERE TO UNWIND AND LEAVE THE STRESS BEHIND"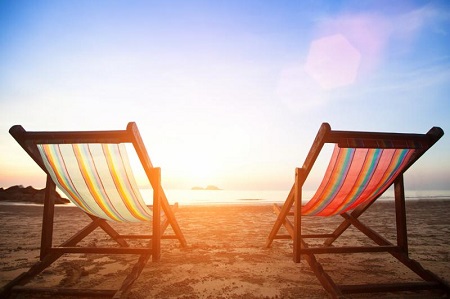 Discover St. Barths
Discover eight square miles of volcanic rock that boasts powder white beaches, night blooming cacti, a gorgeous mix of iguanas, luxury hotels, villas, yachts, designer boutiques and the occasional celebrity. More than just a French West Indian gem, St. Barthelemy offers luxury and tranquillity, appealing to upscale clientele who want nothing more than to get away. Leave stress behind and unwind, enjoying this intimate island that offers everything from adventure in hiking and horseback riding to great food to lazy days on the beach.
The ideal getaway, St. Barths serves as the perfect vacation spot for couples. Reconnect, recharge, and rejuvenate your relationship with a getaway to St. Barths. If you are one for activities and great adventures, St. Barths offers diving, deep-sea fishing, sailing, travel six feet beneath the sea's surface in comfortable submarine excursions checking out the island's own Marine Park. Relax on one of the island's many beaches or spoil yourself with great retail therapy shopping at high end boutiques sporting European fashion in Gustavia or check out the shopping centres in St. Jean, all while taking a few moments to appreciate the beautiful untouched nature and wildlife that St. Barths has.
Dining in St. Barths serves as a one-of-a-kind experience for those vacationing on the island. Choose from around 90 restaurants serving a wide range of French, Creole, Asian and Italian dishes to the tastiest sandwich. The night is still young as you can make your way over to some of St. Barths most sought after clubs like the "Yacht Club" or "Casa Nikki" that offer a great combination of unique drinks and pulsating beats.
Make your way over to St. Barths for a well deserved vacation. Create your home away from home by staying at some of the best lavish villas and hotels on the island.
AirStMaarten
makes this possible by offering its shared charter services to the island with VIP treatment. By booking with
AirStMaarten
you only pay for the seats you will be occupying instead of paying for the entire aircraft. A service like this guarantees smooth transfers to St. Barths and surrounding islands as well.
How does the AirStMaarten shared charter service work? If one or two people request to share a private charter, the shared charter is scheduled. Once three or four people book the shared charter, it is then confirmed and you are on your way. If the shared charter is not confirmed, passengers are booked on a regular commercial flight with complimentary VIP services to ensure that transits through the gateways to St. Barths, such as St. Maarten, Antigua, Anguilla and San Juan, Puerto Rico, are smooth and hassle-free, making sure that you leave the stress behind so that you can relax and unwind in St. Barths.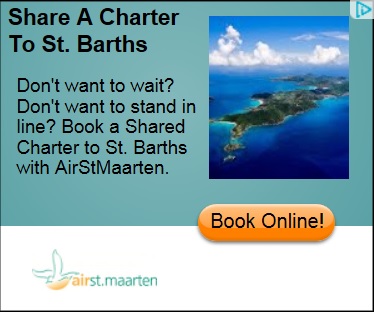 Visit
http://www.airsxm.com/vipservices
and
http://www.sharedcharters.com
for more information.
---
4. SPONSOR MESSAGE:
Book Cheap Tickets Online At CheapoAir
---
---
5. NEWS ITEM:
Dealing With The Threat of Ebola When Traveling
---
DEALING WITH THE THREAT OF EBOLA WHEN TRAVELING


by Terrance Rey


I am not a medical expert of any kind. I am hardly a travel expert as there are many more people who have traveled more than I have in my entire lifetime. I am however a travel sales consultant and many of you are clients of mines in one form or the other and therefore I feel compelled to write about dealing with the threat of ebola when traveling as I will undoubtedly get questioned about this as more travel warnings are being issued in regards to curtailing the spread of the ebola virus.
For a detailed description of the Ebola virus and a clinical analysis of the Ebola virus as a disease you can visit the Wikipedia webpage on the Ebola virus disease
here
. Important is to note that... "
The virus is acquired by contact with blood or other body fluids of an infected human or [..] animal. This may also occur by direct contact with a recently contaminated item. Spread through the air has not been documented in the natural environment
."
Source:
http://en.wikipedia.org/wiki/Ebola_virus_disease
The chances of you contracting the Ebola virus is infinitely smaller than the chances of you getting run over by a car while crossing the street. With that being said, it does not mean that I don't think you should not be careful about contracting this disease, especially if you are traveling in general or traveling specifically to a region affected by the Ebola virus. It pays to be careful and it pays to be aware of your surroundings and to take adequate measures to limit your chances to exposure in whatever form that may be prevalent at your travel destination.
But I certainly would not advise to actively participate in nor perpetuate the mass hysteria that is currently spreading around the globe into certain countries like a virus on to itself. Over the years we have had all kinds of diseases spread faster via word of mouth, the media and through the world wide web, from the Mad Cow Disease to SARS to Chikungunya and now Ebola.
The fact of the matter is that - whether we are traveling or not - we all should remain calm and be rational about this virus and the disease it causes. Adding fuel to the flames of mass hysteria will not help anyone and it certainly will not bring aid any quicker to those who need it most of all. The last thing we need is an isolationist movement that in my opinion will only lead to a quicker spread of the virus and the disease. Aid workers and medical people must be afforded the time to work diligently in peace, with focus and energy in combating the disease and the unbridled spread of the virus. What we are presently seeing in the mass media is simply a distraction from the real issue. And that is that, much like Polio in its heyday, Ebola is another virus for which I am certain a vaccine can be developed - if not already - and effectively deployed to stop the spread of this virus dead in its tracks.... if we just stay calm!
So how do we deal with the threat of Ebola when traveling? My answer is simply to go about your everyday business and plan your travels according to your needs. Be mindful of the places you travel to and pay attention to your surroundings, your personal hygiene, and that of others, and most of all, stay healthy! And remember... you need to have a ticket in order to travel. You know where to book your next travel ticket.... online at
www.lets-travel.com
.
Terrance Rey is owner and managing director of Let's Travel, Travel Anywhere and AirStMaarten. Terrance Rey has 14 years experience in the travel business as a travel agent, tour operator, charter broker and as an internet travel entrepreneur. You can email Terrance Rey directly via terrance@letstravelsxm.com with any questions you may have relating to your international travel needs.
Stay informed on developments at AirSXM, Inc., by subscribing to our mailinglist,
click here
or send an email to
mailinglist@airsxm.com
. We will never share our emailaddresslist with others. We appreciate your trust and respect your privacy.
---
6. TRAVEL TIP:
How To Get Group Discounts With AirSXM To St. Barths
---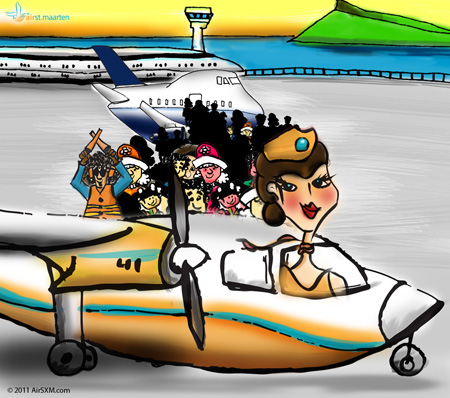 If you are part of a group of at least 10 persons - even if the party is spread out in different groups of people ranging from couples or families - and you want to benefit from AirSXM's group discount service, please email us via sales@airsxm.com to request a group discount code for your party. Then when the people in your party submit their own reservation request via
http://www.airsxm.com
they can fill in the group discount code in the comments field at the end of the reservation request process.
Whatever you want do, we at AirSXM are here to help you plan your next flight into St. Barths, be it via commercial flight, private charter, shared charter or helicopter charter. And don't forget to request our VIP Services as well.
Visit
http://www.airsxm.com
to select your preferred flight option. We also accept bookings up to over a year in advance as well. Just don't forget to request your promo code if your traveling with a diverse party of 10 persons or more.
Adformercial: Fired Travel Agent Reveals How To Get Dirt Cheap Airfare Tickets! I Was Fired By The Airlines, So This Is My Revenge! This Angry Ex-travel Agent Will Reveal The Deepest, Darkest Secrets Of The Airline Industry To Show How You Can Obtain Airline Tickets At Ridiculously Low Costs! Click here!
---
7. AGENDA:
Just Launched: Brand New Website for Let's Travel
---
LET'S TRAVEL LAUNCHES BRAND NEW WEBSITE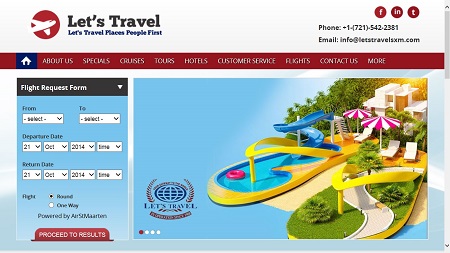 Philipsburg - Local travel agency, Let's Travel, has launched a brand new website online at www.lets-travel.com, which will not only cater to locals looking to request or book flights online, but also target the inbound travel market, allowing tourists to book flights, tours and activities via the website as well.
Owner of Let's Travel, Terrance Rey, said that the website took a long time for him to complete but he felt that after the passing of hurricane Gonzalo last week, it was imperative to boost St. Maarten's travel offerings online so that the island as a tourist destination can get more visibility as the Caribbean islands will certainly be ramping up the competition to promote and sell their respective destinations.
"A comprehensive website like that of
Lets-Travel.com
offering many travel products and tour services for inbound travellers to St. Maarten is a welcome addition to the marketing arsenal of the island's tourism sales infrastructure." says Terrance Rey.
The website will also serve as a webportal to AirStMaarten's commercial charter flights with specials to Guyana, Jamaica, Miami, Aruba, Colombia and later on Brazil as that South American market opens up once St. Maarten and Brazil conclude an open skies treaty.
"For the past eight years
AirStMaarten
has been organizing both private and shared charters to the surrounding islands of St. Barths, Anguilla, St. Kitts, Nevis, Tortola and Antigua & Barbuda for passengers transitting through St. Maarten, but the time is right with the launch of
Lets-Travel.com
to promote inbound travel to St. Maarten itself with services that will attract clients of AirStMaarten to actually visit and stay on the island itself." explains Rey.
"Our group of travel companies, partners and affiliates will use the platform of the new Let's Travel website as a portal to all the different travel products and services that are on offer. We look forward to helping put St. Maarten back on the map as the prime vacation destination in the Northeastern Caribbean region." concludes Terrance Rey.
For more information, call +1-721-542-2381, email
info@lets-travel.com
or visit
www.lets-travel.com
.
---
8. ADVERTISEMENT:
Book Our Speedboat Charters To St. Barths
---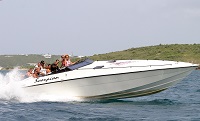 If you are afraid of flying and landing in St. Barths; if the ferry service is too slow or too bumpy for your taste; if all flights to St. Barths are full; or if the St. Barths is closed due to sunset, you can charter our speedboat service to St. Barths.
Our speedboat charters are powered by Scorpion Trips. Scorpion is more than just a boat, it's an experience. Step aboard the 37 foot offshore speed boat and enjoy one of the fastest boats in the region.

Scorpion's speed boat runs on twin 600 horse power Mercruiser engines. A total of 1,200 horse power! Scorpion's speed boats can also carry passengers in an unsurpassed level of comfort and style at regular cruising speeds which ensure comfort and speed. Scorpion has an open bar with cold drinks and a secure cabin space for any luggage etc.

So surf to
StMaartenTours.info
to book a speed boat charter to St. Barths, Anguilla and Saba.
Email us now via info@stmaartentours.info for more information about our Speedboat Charters.
---
9. CUSTOMER SERVICE:
How To Book With AirStMaarten
---
Booking Procedure & Reservation Information
Submit a reservation request online at www.airsxm.com. Once we receive your request, we will send you a Reservation Offer for your consideration. Once you accept our proposal, we will require payment. You can use our credit card form to send us your credit card information. We accept all major credit cards such as Visa, MasterCard, Discover and American Express. You can also pay by bank transfer, check, cash or Paypal. Once payment is received, we will book the commercial flight or private charter and send you a Reservation Confirmation.
If you have requested additional services such as VIP Transfer Services, we will send you a Final Confirmation containing all details of your travel itinerary and services booked. And that's how you book with AirStMaarten.
Other Customer Service Resources:
Our Shared Charters concept explained in full detail
VIP Transfer Services through Princess Juliana Int'l Airport
Island Concierge Services on St. Maarten and St. Barths
Read what our satisfied clients are saying about our service
Ticket Insurance
We also accept payments via Paypal
St. Maarten Villa Rentals
St. Maarten Yachting and Sailing Charters
Sign up for our email newsletter service
---