The AirStMaarten Newsletter is professional with a personal touch, informative and to the point with news, opinions, background information, articles and promotions.
If you wish to subscribe to our mailinglist, click here or send an email to mailinglist@airsxm.com. We never share our emailaddresslist with others.
We appreciate your trust and respect your privacy.
---
In this February 2015 issue:
---
1. INTRO: What A New FBO Facility Means For SXM
2. PROMO: ARE YOU A TRAVEL AGENT?
3. ARTICLE: "IF AIRLINES RAN AIRPORTS" by Terrance Rey
4. SPONSOR MESSAGE: Book Cheap Tickets Online At CheapoAir
5. NEWS ITEM: St. Maarten SXM Airport to Build New FBO Facility
6. TRAVEL TIP: How To Get Group Discounts With AirSXM To St. Barths
7. AGENDA: What To Expect From Us In 2015
8. ADVERTISEMENT: Book Our Speedboat Charters To St. Barths
9. CUSTOMER SERVICE: How To Book With AirStMaarten
---
INTRO:
What A New FBO Facility Means For SXM
---
Dear reader,
SXM Airport has plans for a new Fixed Base Operation (FBO) facility to be constructed. Financing has been arranged. The wait is now on the necessary building permits to be signed off on.
In the meantime, let's look at what a new FBO facility will mean for SXM Airport. But before we do, let's define what exactly a Fixed Based Operation is. According to
Wikipedia
: "
A fixed-base operator (FBO) is a commercial business granted the right by an airport to operate on the airport and provide aeronautical services such as fueling, hangaring, tie-down and parking, aircraft rental, aircraft maintenance, flight instruction, etc. In common practice, an FBO is a primary provider of support services to general aviation operators at a public-use airport [.] located on airport leasehold property
."
At SXM Airport there are presently three (3) FBO facility services providers: Menzies Aviation, Arrindell Aviation Services (Signature) and TLC Aviation. The latter stands for The Logical Choice and not Tender Loving Care. But that is a joke for another topic.
It remains yet to be seen what Menzies will do, as their monopoly on the ground handling services ('
below wing
') at SXM Airport is set to expire in 2016, but so far only Arrindell by Signature and TLC has signed on to occupy the new to be built FBO facility when completed while there is space for three operators.
According to
Wikipedia
once again, the term '
fixed-base operator
', which originated in the United States, is becoming more common in the international aviation industry as business and corporate aviation grows. So it is in St. Maarten. The business and corporate aviation has been steadily growing over the years. Not only in St. Maarten, but throughout the entire region, we have seen tremendous growth in the private jet charter business and SXM Airport and its Fixed Based Operators have benefitted from this as well.
The only problem for many private jets looking to land at the SXM Airport is adequate parking space. During the peak of the high season in December and January of each year, private, corporate and business jets are lined up side by side at the SXM Airport and jets even has to be turned away due to a lack of space. Hence the solution to create more parking space and build a new and larger FBO facility.
This means that SXM Airport will be able to accept more aircrafts during the peak high season and that is always good for business. At the end of the day, all the relevant stakeholders at the SXM Airport will be happy with this development. We look forward to the start of the construction for the new FBO facility.
Best regards,
Terrance Rey
Publisher/Editor
PS
: If you are a
travel agent
, a
concierge services provider
or a
private jet operator
and you need assistance for your clients transitting through St. Maarten SXM Airport, you can contact me by emailing
sales@airsxm.com
.
Advertorial

---
In case you are reading about AirStMaarten's private charters program for the first time, here is some background information on our shared charters.
WHAT ARE SHARED CHARTERS?

A Shared Charter is when you book a Private Charter and you Only Pay for the Seat You Occupy. Not for the whole aircraft. AirStMaarten has been successfully organizing shared charters to St. Barths since November 2006.
HOW OUR SHARED CHARTERS WORK

Travel Agents and clients book our shared charters for seamless connections and hassle-free transfers to St. Barths and surrounding islands such as Anguilla, St. Kitts, Nevis, St. Eustatius, Antigua and Tortola.
HERE IS HOW OUR SHARED CHARTERS WORK...

1) If 1 or 2 people request to share a private charter, the shared charter is scheduled.
2) Once 3 or 4 people book the shared charter, the shared charter is confirmed and you are good to go!
If the shared charter is not confirmed, passengers are booked on a regular commercial flight with complimentary VIP Services to ensure their transit is smooth and hassle-free.
Visit
www.sharedcharters.com
for more information, scheduling and availabilities.
---
Adformercial:
StMaartenTours.info offers you the opportunity to book your island tours in advance to your arrival on St. Maarten, whether for the day by cruise ship, or during your vacation stay on the island. We have a wide range of island tours to choose from, including air tours, city tours, beach tours, mountain tours, historical tours, shopping tours, restaurant & bar tours, all day tours, jeep safari tours and our various popular water sports activities. Visit St. Maarten Tours, Trips, Transfers, Excursions and Taxi Services!
Click here!

---
2. PROMO:
ARE YOU A TRAVEL AGENT?

---
IF YOU ARE A TRAVEL AGENT...

Email our Sales Department at AirSXM.com for information our attractive pre-season travel agency discounts for private and shared charters and VIP services to St. Barths. We are offering significant agency discounts on charters booked for travel during the 2015-2016 winter season. Contact our Sales Department for more information on our agency discount rates.

AIRSTMAARTEN
P.O. Box 5245, Philipsburg, St. Maarten
Tel. +1 (721) 581-9740, Cell: +1 (721) 523-3564, Fax: 1-866-503 0347
Email: sales@airsxm.com
---
3. ARTICLE:
"If Airlines Ran Airports"
---
"IF AIRLINES RAN AIRPORTS"
By Terrance Rey
If airlines ran airports they would be able to offer passengers lower air fares. This may be controversial statement for some, but if you look at the figures, you will understand my point of view more better.
If we wanted to, we would be able to offer visitors a daytrip to St. Barths for only $10 US Dollars per person. However, the airport fees and taxes would force us to collect a total of $110 per person from each passenger. The taxes collected are supposedly supposed to go to government, but I have yet to actually any proof of this.
If we factor in the millions airports collect in rental fees for commercial space rented out and the concessions fees generated through the various commercial enterprises at the airports, sometimes as high as 16%, I am still confused as to why the fees levied on airlines for the various services rendered are so high. This ultimately leads to higher air fares which has to be paid by the passengers.
Many airlines are waging fierce battles with airport management companies in and around the Caribbean to keep the airport fees and taxes competitive. Airlines are the motors that drive passenger traffic through these airports, yet the airlines do not benefit nor profit from the millions in revenues generated by these airports.
It is time the airports rightfully start to consider the airlines as their partners in the passenger transportation business. The one can not exist without the other. Airports and airlines have to offer competitive fares to attract more tourist to a destination's shores. To be able to do that, both airports and airlines have to be in a partnership. Else the title to my next article could very well be: "If Airports Ran Airlines Away."
---
Terrance Rey is owner and managing director of Let's Travel, Travel Anywhere and AirStMaarten. Terrance Rey has 15 years experience in the travel business as a travel agent, tour operator, charter broker and as an internet travel entrepreneur. You can email Terrance Rey directly via terrance@letstravelsxm.com with any questions you may have relating to your international travel needs.
Advertisement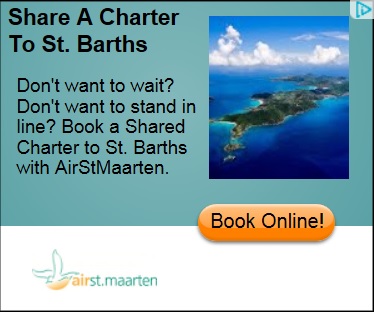 Visit
http://www.airsxm.com/vipservices
and
http://www.sharedcharters.com
for more information.
---
4. SPONSOR MESSAGE:
Book Cheap Tickets Online At CheapoAir
---
---
5. NEWS ITEM:
St. Maarten SXM Airport to Build New FBO Facility
---
ST. MAARTEN SXM AIRPORT TO BUILD NEW FBO FACILITY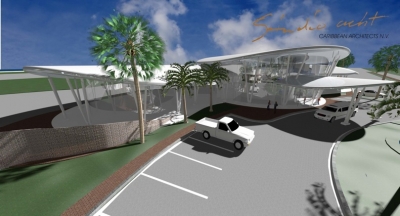 SXM Airport initiated a bidding process in December 2014 by inviting five contractors to submit bids for the construction of the new FBO facility.
Of the five, one sent a letter of no participation, one did not respond, and three submitted bids.
Once a company has been chosen, SXM Airport will then seek approval from its board of directors, followed by the drafting of an agreement with the chosen company, after which the works can begin.
The intended airside location for the new FBO facility is the area where the Government Fire Department once stood (it has since been demolished to make way for the construction of the new FBO) as well as the area currently occupied by the Civil Aviation Authority and the Meteorological Services of St. Maarten, to the east of the terminal building.
The new FBO Terminal building will occupy an area of 1,000 square meters with a space of 5,000 square meters for General Aviation parking. It will feature three retail outlets as well as Customs, Immigration and Security services.
As already announced, SXM Airport has signed an MOU with Arrindell by Signature to operate in the new facility. The non-exclusive agreement calls for Signature to offer passenger, ground handling and into plane fuel services for General Aviation (GA) from the new FBO Terminal. At least one other operator is expected in the new facility. The FBO operator(s) at the new facility are expected to build their own lounges with additional services and amenities. The estimated construction period for the new facility is between 14-16 months.
The new FBO facility is part of the Capital Improvement Program of SXM Airport and has become very necessary due to increased growth in the General Aviation sector. Although SXM Airport is ranked number two in the region in terms of General Aviation, competition from other airports means that SXM Airport needs to expand and upgrade its current facilities in order to maintain its market share. To date, SXM Airport has been exceeding the number of bookings and private jets over previous years especially during the Christmas/New Year holiday period.
If you want to travel on our private jet charters and shared charters, just email
sales@airsxm.com
or visit our website online at
www.airsxm.com
to submit a reservation request.
---
6. TRAVEL TIP:
How To Get Group Discounts With AirSXM To St. Barths
---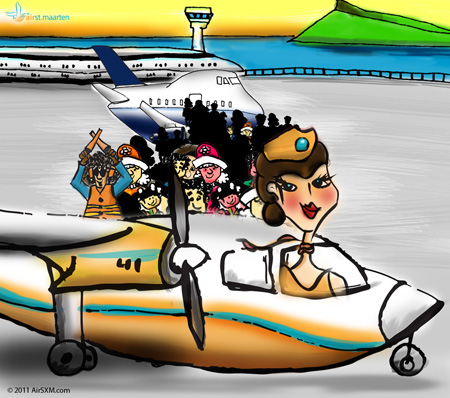 If you are part of a group of at least 10 persons - even if the party is spread out in different groups of people ranging from couples or families - and you want to benefit from AirSXM's group discount service, please email us via sales@airsxm.com to request a group discount code for your party. Then when the people in your party submit their own reservation request via
http://www.airsxm.com
they can fill in the group discount code in the comments field at the end of the reservation request process.
Whatever you want do, we at AirSXM are here to help you plan your next flight into St. Barths, be it via commercial flight, private charter, shared charter or helicopter charter. And don't forget to request our VIP Services as well.
Visit
http://www.airsxm.com
to select your preferred flight option. We also accept bookings up to over a year in advance as well. Just don't forget to request your promo code if your traveling with a diverse party of 10 persons or more.
Adformercial: Fired Travel Agent Reveals How To Get Dirt Cheap Airfare Tickets! I Was Fired By The Airlines, So This Is My Revenge! This Angry Ex-travel Agent Will Reveal The Deepest, Darkest Secrets Of The Airline Industry To Show How You Can Obtain Airline Tickets At Ridiculously Low Costs! Click here!
---
7. AGENDA:
What To Expect From Us In 2015
---
WHAT TO EXPECT FROM US IN 2015
The best wishes for the New Year.
Updated website with booking options for Flights, Hotels, Car Rentals and Vacation Packages.
Updated website with Live Chat integration.
More tweets, postings and sharings on Social Media.
More routes, more services and more aircrafts added to our Fleet of available aircrafts through our charter operators.
Stay informed on developments at AirSXM, Inc., by subscribing to our mailinglist,
click here
or send an email to
mailinglist@airsxm.com
. We will never share our emailaddresslist with others. We appreciate your trust and respect your privacy.
---
8. ADVERTISEMENT:
Book Our Speedboat Charters To St. Barths
---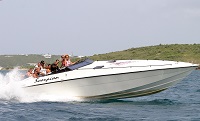 If you are afraid of flying and landing in St. Barths; if the ferry service is too slow or too bumpy for your taste; if all flights to St. Barths are full; or if the St. Barths is closed due to sunset, you can charter our speedboat service to St. Barths.
Our speedboat charters are powered by Scorpion Trips. Scorpion is more than just a boat, it's an experience. Step aboard the 37 foot offshore speed boat and enjoy one of the fastest boats in the region.

Scorpion's speed boat runs on twin 600 horse power Mercruiser engines. A total of 1,200 horse power! Scorpion's speed boats can also carry passengers in an unsurpassed level of comfort and style at regular cruising speeds which ensure comfort and speed. Scorpion has an open bar with cold drinks and a secure cabin space for any luggage etc.

So surf to
StMaartenTours.info
to book a speed boat charter to St. Barths, Anguilla and Saba.
Email us now via info@stmaartentours.info for more information about our Speedboat Charters.
---
9. CUSTOMER SERVICE:
How To Book With AirStMaarten
---
Booking Procedure & Reservation Information
Submit a reservation request online at www.airsxm.com. Once we receive your request, we will send you a Reservation Offer for your consideration. Once you accept our proposal, we will require payment. You can use our credit card form to send us your credit card information. We accept all major credit cards such as Visa, MasterCard, Discover and American Express. You can also pay by bank transfer, check, cash or Paypal. Once payment is received, we will book the commercial flight or private charter and send you a Reservation Confirmation.
If you have requested additional services such as VIP Transfer Services, we will send you a Final Confirmation containing all details of your travel itinerary and services booked. And that's how you book with AirStMaarten.
Other Customer Service Resources:
Our Shared Charters concept explained in full detail
VIP Transfer Services through Princess Juliana Int'l Airport
Island Concierge Services on St. Maarten and St. Barths
Read what our satisfied clients are saying about our service
Ticket Insurance
We also accept payments via Paypal
St. Maarten Villa Rentals
St. Maarten Yachting and Sailing Charters
Sign up for our email newsletter service
---