The AirStMaarten Newsletter is professional with a personal touch, informative and to the point with news, opinions, background information, articles and promotions.
If you wish to subscribe to our mailinglist, click here or send an email to mailinglist@airsxm.com. We never share our emailaddresslist with others. We appreciate your trust and respect your privacy.
---
In this May 2013 issue:
---
1. INTRO: Want A Highly Personalized Vacation Experience?
2. SPECIALS: Share A Charter To St. Barths... and Get a FREE CAR
3. ARTICLE: How The Cruise Industry Benefits Even St. Barths
4. SPONSOR MESSAGE: CheapoAir
5. NEWS ITEM: Luxury AirCruises Leading Economic Recovery
6. TRAVEL TIP: Get A Rewards Credit Card
7. AGENDA: St. Barths West Indies Regatta May 2-5th, 2013
8. ADVERTISEMENT: Save Now, Travel Later
9. CUSTOMER SERVICE: How To Book With AirStMaarten
---
INTRO:
Want A Highly Personalized Vacation Experience?
---
Dear friends and clients,
The summer is going to be a summer of deals and specials. Everywhere I look, I see FREE, FREE, FREE !!! Free Cars. Free Flights. And even Free Stays on St. Maarten. With such great deals on offer, it can be pretty inexpensive to travel to St. Maarten and St. Barths this summer.
With AirSXM AirCruises expanding its multi-destination charters by private plane service to include stayovers on St. Maarten with offers of free cars, free flights and free stays, it is exceptionally attractive this summer to travel to the islands.
Email sales@airsxm.com to find out how you can qualify for these free offers. Conditions do apply. Like for instance, you must take a two weeks vacation, you must be flexible and you must visit either St. Barths for at least one day and or vacation in Anguilla for at least three days before returniing back to St. Maarten and staying a minimum of one to three days or longer on the island.
I guarantee you, there will be nothing homogeneous about your vacation trip, for it will be a highly personalized and customized vacation experience if you contact us (via sales@airsxm.com) and let us plan your next 2 weeks vacation to the islands with exclusive service and great offers at attractive prices.
This month's NEWS ITEM section features another development in a trend I have noticed materialized over the years from an incidental request to a steady demand for a multi-destination vacation package by private charter called AirCruises.
Under the banner of Luxury AirCruises Leading the Economic Recovery in the Travel Sector, we feature in the News Item section a Travel Weekly article that supports this development.
Happy Readings!
Terrance Rey
Adformercial: Fired Travel Agent Reveals How To Get Dirt Cheap Airfare Tickets! I Was Fired By The Airlines, So This Is My Revenge! This Angry Ex-travel Agent Will Reveal The Deepest, Darkest Secrets Of The Airline Industry To Show How You Can Obtain Airline Tickets At Ridiculously Low Costs! Click here!
---
2. SPECIALS:
Share A Charter To St. Barths... and Get a FREE CAR
---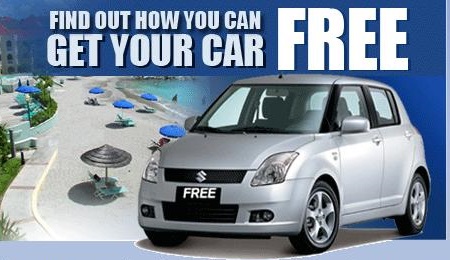 Not only can you share a charter to St. Barths from St. Maarten, but you can also get a FREE CAR as well. Email us via sales@airsxm.com on how you can get a free car when you book a shared charter with AirStMaarten to St. Barths. For more information about our Shared Charters and to see the constantly updated Shared Charters schedule online, visit http://www.SharedCharters.com.
---
3. ARTICLE:
How The Cruise Industry Benefits Even St. Barths
---
How The Cruise Industry Benefits Even St. Barths
by Terrance Rey
It is my contention that the cruise industry is beneficial even for St. Barths.
Here is why and how...
I recently read a Travel Weekly article called the "Homogenization of the Caribbean" by Arnie Weissmann and the premise of the article is that the Caribbean region is perceived by travel agents as falling into a rut of homogeny, even to the point of burning out a bunch of travellers and some Caribbean destinations being overdeveloped, yet sadly, tends to be where the cruise ships go.
As a travel agent myself, I disagree.
Promoting a destination within the Caribbean – or any destination for that matter – begins with awareness creation for that destination. The destinations with the biggest marketing dollars are usually the first to draw attention. Think St. Maarten. Destinations that receive negative press in one form or another usually receives a positive spin-off from the bad PR: more awareness, even among demographics that never even heard of the destination prior to the negative event publicized. Think Aruba and the Natalee Holloway case.
The next key element is the experience any first-time visitors receive when they visit a destination after being made aware of the destination and decide to plan a vacation there. Just the other day I read in the Today newspaper that mystery writer Ed Arre and his wife fell in love with St. Maarten 25 years ago when they visited the island for the first time on their honeymoon. I wondered how they found out about St. Maarten.
Nonetheless, their experience on the island during that initial visit was good enough to get them to return and eventually settle on the island. What made them do that? I strongly believe the interaction with the people on the island had something to do with that decision. First, to return to the island, and secondly, to ultimately become expats living on the island on a permanent basis.
Therefore, despite the homogenization of the Caribbean Arnie Weissman writes about in his article published April 22nd in the Travel Weekly newspaper, due to mass discount selling of destinations in the Caribbean as a part of all-inclusive packages and cruise vacations, personally, I don't have a problem with this. How the people get on our shores initially makes a no difference to me. I would even offer them free flights to St. Maarten if I could afford it. It is what we do afterwards and how we as locals and residents on our island interact with these visitors once they are on the island and how that interaction is experienced and perceived is what will go a long way towards convincing them to return for a more personalized and experiential vacation that might ultimately result in them making their returns and their stays take on a more permanent nature.
What does this have to do with St. Barths and why would cruise tourism even it be beneficial to St. Barths?
Besides tourists and vacationers staying on St. Maarten taking daytrips to St. Barths - most experiencing St. Barths that way for the first time - we often get requests for daytrips to St. Barths from cruise visitors arriving on cruise ships for the day. We even have a special offer for a daytrip to St. Barths - leave in the morning and return in the afternoon and get a free car rental for the day while on St. Barths. [Email us via sales@airsxm.com for more info.]
My point being..... of these mass arrivals on our - to some - overdeveloped St. Maarten, some visit St. Barths for the first time because of the vicinity and of those few, some return for a more personalized and experiential vacation on St. Barths. So homogeneous Caribbean vacations is beneficial to some destinations, including St. Barths.
So eventhough St. Barths abhors the mass cruise tourism St. Maarten experiences and this year's April Fool's Day announcement that the Collectivité decided to build a cruise terminal on St. Barths in Corrosol was a very funny one, St. Barths still manages to benefit from the cruise industry in a very positive way.
Writer, Terrance Rey, is the founder and owner of AirStMaarten and is also the owner and CEO of Let's Travel, Let's Cruise and consultancy agency, Anykey Services NV.
---
4. SPONSOR MESSAGE:
CheapoAir
---
---
5. NEWS ITEM:
Luxury AirCruises Leading Economic Recovery
---
ST. MAARTEN -- AirSXM, St. Maarten's first virtual airline offering private charters, shared charters, commercial flights and budget flights with VIP services to and from St. Maarten, St. Barths, Antigua, San Juan and Anguilla, is now offering multi-destination charters by private plane between St. Maarten, St. Barths and Anguilla.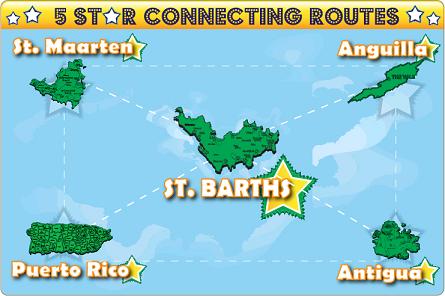 AirStMaarten specializes in organizing private charters, shared charters, budget flights and commercial flights for our discerning clients. Our service is fast, courteous and professional and we offer clients a wide selection of flights, charters and VIP services to fit their travel needs and itinerary. What makes us unique is our shared charters with seamless connections to St. Barths.
What we have now done is taken our itineraries between St. Maarten and St. Barths, from St. Barths to Anguilla and from Anguilla to St. Maarten to combine into a multi-destination itinerary that offers our discerning clients the option to put together a vacation package that entails spending a couple of days in St. Barths and then in Anguilla before returning home via St. Maarten.

Clients can choose to share a multi-destination charter or fly exclusively with only their family or friends. All our multi-destinational charters will be executed by private charter whereby clients pay for the whole aircraft or only the seats they occupy. The choice of aircrafts range from 9-seater BN Islanders to Cessna Caravans to 16-seater Twin Otters.
Under the banner of Luxury AirCruises Leading the Economic Recovery in the Travel Sector, we feature the following Travel Weekly article that supports the trend in the increasing demand for highly personalized, non-homogenized multi-destination vacation packages by private charters called AirCruises.
THE RARIFIED AIR OF RECOVERY

by Jeri Clausing

It's no secret luxury travel has been leading the industry's economic recovery. And some of the newest ventures indicate it's ultra-high-end travel that is leading the luxury sector.

Whether it's traveling by helicopter or going around the world in a private jet with just a few of your closest friends, some of the luxury travel sector's newest entrants are confident this is the niche market of the recovery.

Last week, industry veterans Barney Ebsworth and Linda Wischmeyer launched a private jet tour operator, Intrav, that "specializes in intimate, around-the-world experiences for the most discerning travelers."

Among their packages: an inaugural around-the-world, three-week trip for a mere $99,950 per person, double occupancy.

The news comes of the heels of several other recent announcements of private jet tour partnerships and packages like those from Khiri Travel Cambodia, which is offering a "flexible, 10-day luxury trip for millionaire travelers" that includes private helicopter and jet travel.

It also comes on the heels of a new report from the Pew Research Center that shows the richest Americans got richer during the first two years of the economic recovery, thanks in large part to the booming stock market.

And that is fueling demand for services such as those from Intrav.

"I do believe that ultra-high-end travel is doing the best of all," said Wischmeyer, whose background includes work with Travcoa, National Geographic Expeditions, Abercrombie & Kent and TCS & Starquest Expeditions.

"The reason is that many younger people with the means to afford luxury travel are deciding to take advantage of luxury travel opportunities now rather than postponing their plans until some not-yet-determined future date. They have decided to take time off of work, to bring the high school-age kids, to bring the grandparents, to get a group of friends to travel together."

And as Travel Weekly Editor in Chief Arnie Weissmann reports from the American Express Publishing Luxury Summit, these travelers have high expectations.

Wischmeyer agrees. And Intrav offers amenities not even the world's finest airlines can offer.

"We're ushering in a new golden age of luxury travel for our guests," she said. "Intrav's journeys take 50 guests on a travel experience that offers every imaginable comfort, from flat-bed seats and expedited security and boarding -- plus the comfort of knowing you are in a closed, secure group of known travel companions -- to an onboard private chef and WiFi, including a personal iPad."

Let's hope the stock market keeps booming. Because how could anyone ever fly commercial again?

Source: Travel Weekly
---
6. TRAVEL TIP:
Get A Rewards Credit Card
---
If you are booking a trip and traveling to St. Barths for the 2013-2014 high season, good chance you will be paying by credit card and using your credit card in St. Barths to pay for all your vacation expenditures. Of course, credit cards is a debt trap for a lot of people, but if you spend responsibly and pay off your credit card balance monthly, then having a rewards credit card can pay off big time. Many use their creditcard for all their expenses and every year get one or two free airline tickets this way, free of costs. People even buy iPads and laptops using their rewards points. It doesn't cost anything to have this type of credit card. So look for a credit card with rewards or cash back rewards is our travel tip of the month.
Another tip: email sales@airsxm.com about our SAVE NOW, TRAVEL LATER programme.
---
7. AGENDA:
St. Barths West Indies Regatta May 2-5th, 2013
---
"Reconnecting The Islands With Traditional Sail"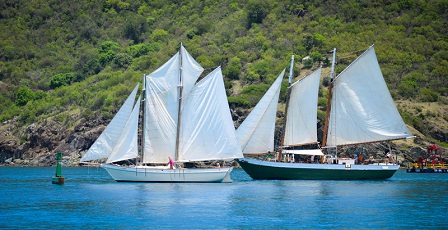 Each year during the first weekend in May, beach built island Schooners & Sloops from all over the Caribbean return to the Port of Gustavia, St. Barths to commemorate the great days of trading by sail between the islands.
The event takes place over three days and includes sailing, an Island Market, live music and much more on May 2-5th, 2013. Visit http://www.westindiesregatta.com for more information...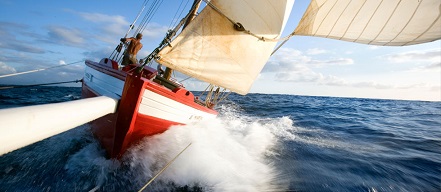 ---
8. ADVERTISEMENT:
Save Now, Travel Later
---
When you book with AirStMaarten via www.AirSXM.com, you now have the option of making use of our Save Now, Travel Later option. Email sales@airsxm.com for more information.

If you're planning to visit St. Barths next winter, now is a good time to
make use of our Save Now, Travel Later option. We are seeing a rapidly improving US economy and with snow still affecting much of North America - even in May -, it makes sense to expect a busy 2013-2014 winter season for St. Barths.
So email us now via sales@airsxm.com for more information about our Save Now, Travel Later option to learn how you can get significant rewards if you save now and travel later.
---
9. CUSTOMER SERVICE:
How To Book With AirStMaarten
---
Booking Procedure & Reservation Information
Submit a reservation request online at www.airsxm.com. Once we receive your request, we will send you a Reservation Offer for your consideration. Once you accept our proposal, we will require payment. You can use our credit card form to send us your credit card information. We accept all major credit cards such as Visa, MasterCard, Discover and American Express. You can also pay by bank transfer, check, cash or Paypal. Once payment is received, we will book the commercial flight or private charter and send you a Reservation Confirmation.
If have requested additional services such as VIP Transfer Services, we will send you a Final Confirmation containing all details of your travel itinerary and services booked. And that's how you book with AirStMaarten.
Other Customer Service Resources:
Our Shared Charters concept explained in full detail
VIP Transfer Services through Princess Juliana Int'l Airport
Island Concierge Services on St. Maarten and St. Barths
Read what our satisfied clients are saying about our service
Ticket Insurance
We also accept payments via Paypal
St. Maarten Villa Rentals
St. Maarten Yachting and Sailing Charters
Sign up for our email newsletter service
---