PRIVATE JET CHARTERS TO ST. BARTHS
AirStMaarten offers private jet charters from mainland USA to St. Barths.
St. Maarten - Terrance Rey, founder of Caribbean's first and only virtual airline called AirStMaarten, launches a new Caribbean private jet charter service from New York to St. Maarten with connecting charters to St. Barths. AirStMaarten will provide a weekly private jet charter service from New York's JFK Airport to St. Maarten with a luxury Boeing 727.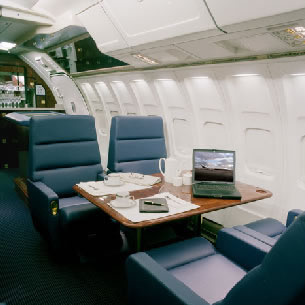 Terrance Rey says: "The first aircraft we will be putting into service on the JFK-SXM route is a 53-seater Boeing 727 luxury private jet with all First Class seats and a walk-up bar in the rear of the cabin."

The Boeing 727 was the first tri-engine jet airliner. It is designed to provide jet luxury on shorter routes. The 727 can take off quickly and land at low speeds, making it suitable for small airports.

AirStMaarten is also planning to put more private jets into operation to service the following cities and destinations: New York, Boston, Los Angeles, Las Vegas, Houston, Atlanta, Miami, San Juan, Anguilla, St. Maarten and St. Kitts.

"We will be utilizing aircrafts such as Citations and Hawkers to cater to non-executive travelers who want to travel in style with private jet service at an affordable price." explains Rey.

At present AirStMaarten offers shared private charters from St. Maarten, Anguilla, Antigua and San Juan, Puerto Rico, to St. Barths. "Many of our clients arrive on commercial airlines, but the connection times are not ideal." says Rey. "So we are looking to provide seamless connections with our own inbound jet service."

"For $1500 roundtrip, affluent condo-owners living in New York will be able to fly to St. Maarten at a premium price compared to the average Economy Class ticket price of $500, yet still competitive in comparison to a First Class fare of about $1800 to $2500." continues Rey.

The condominium owners market is growing steadily in the Caribbean since 2003 with St. Maarten and St. Kitts leading the pack in the Eastern Caribbean region according to a Global Lodging Market Research Report conducted by KPMG in 2006.

"This new private jet charter service will not only help us break into the wealthy condo owners market in St. Maarten," Rey explains. "but also help us accommodate our clients looking for good connections with our shared charters to St. Barths".
Terrance Rey first started AirStMaarten in 2003 offering transatlantic flights from The Netherlands to St. Maarten, Curacao and Aruba with the now defunct Air Holland. After the demise of this Dutch charter operator, AirStMaarten focused it's attention on the Dutch Caribbean regional market by offering flights with commercial carriers such as Dutch Antilles Express (now known as DAE), Inselair, Tiara Air, Winair, Air Caraibes, St. Barth Commuter and TransAnguilla, before ultimately finding its niche market in 'Shared Charters' to St. Barths.

"The idea was simple." explains Rey. "Book private charters from St. Maarten, Anguilla, Antigua and San Juan to St. Barths and sell the seats individually at a higher price than the commercial carriers, such as Winair, Air Caraibes, Tradewind Aviation, Carib Aviation and St. Barth Commuter, and include VIP Services with Meet & Greet, Immigration Clearance, Escort, Luggage Pick Up and Transfers."

"The only requirement for us to be able to schedule and execute a shared charter is that we have to have a minimum of 4 passengers on a flight." Rey continues.

Rey says that other operators such as Winair are now copying that concept and offering it to their passenges also. "Winair has now assigned one dedicated aircraft to the St. Barths market providing VIP Meet & Greet Service in combination with their private charter service to St. Barths." Rey discloses.

"Our new private jet charter service from JFK will be following the same concept. We will charter the whole aircraft to operate on our behalf and AirStMaarten will sell the seats individually. We will require a minimum of 20 passengers before scheduling and executing a charter." Terrance Rey concludes. "A new era in Caribbean private jet charter service has been launched to provide seamless connections via San Juan, Anguilla, St. Maarten and St. Kitts to St. Barths between inbound jet flights with the shared private charters we provide between these islands."

"Furthermore," Rey continues. "for those passengers arriving in St. Maarten and staying on the island we will have a VIP Meet & Greet Desk at the Princess Juliana International Airport, also known as the PJIA or PJIAE airport, where passengers can receive a Welcome Package, receive gift certificates to use while on the island, arrange VIP Shuttle Transfers to the hotels, villa's and condominium resorts, arrange tours, book island activities or excursion flights to the surrounding islands on commercial airline, private charters or even take a helicopter tour of the island."

"We will man the desk with agents who can assist passengers with checking in, Business Class reservations, airline First Class tickets, lost luggage, wheelchair service, luggage carts, valet parking and escorting unaccompanied minors." tells Rey. "It will be a great relief to our clients to know that on the ground in St. Maarten we can also be of assistance. In St. Barths it is no different as we work with Premium IV to provide concierge services to our clients over there."
Click here to submit a reservation request for a private jet charter