Printed in The Daily Herald, Tuesday, July 18, 2006
New Scheduled Direct Flights Link Dominica To St. Maarten
UPDATE - THIS SERVICE HAS BEEN DISCONTINUED !!!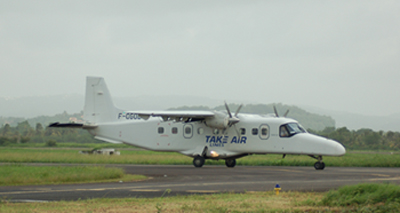 Airport – Take Air Lines Dominica started direct flights from Canefield Airport in Dominica to St. Maarten Monday with a nineteen-seat aircraft. The airline will operate scheduled flights every Monday, Wednesday and Friday and is ready to move to daily service as soon as next week should demand increase.
The hour-long flight arrived here with seven passengers, but airline Station Manager for Dominica, Erwin Ferrara is optimistic that demand will grow, as Dominicans living in St. Maarten are excited about this new service.
Ferrara said the flight was good for visitors and businesspeople, as Canefield is located just three miles north of Dominica's capital Roseau, so travellers no longer have to fly to Melville Hall Airfield that is about an hour away from the capital.
Take Airlines Dominica, as branch of the French Take Air Lines, already operates flights between Dominica, Martinique and Guadeloupe. It also has the route rights for Antigua, but the main focus is on building up the air link between St. Maarten and Dominica to serve the large Dominican population here.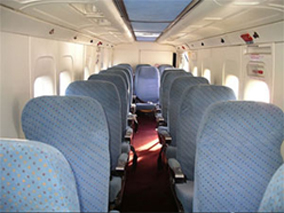 The airline is setting up its reservation system and should be at optimal capacity by Friday. The airline's agent Princess Juliana International Airport (PJIA) Handlers is already receiving numerous calls for tickets. Round trip tickets cost US $220 and are valid for one year, while there is a promotional fare of $175 for a six-day trip.
The flight departs Dominica at 7:15am and arrives here 8:15am. The return flight leaves at 9:30am. Take Air Lines President Director General Samuel Vivares is also confident about the service to St. Maarten and hopes the demand will increase as travellers take advantage of this shorter and competitively priced flight.
Read more about Dominica>>>

Click here to book a Take Air Dominica flight.