Air St. Maarten will become the transportation medium that will put the island of St. Maarten on the map as a preferred destination for holiday seekers. Air St. Maarten will do this with loyalty and dedication to the island of St. Maarten and with respect for its staff while providing a very dependable service to all its customers with equal loyalty, dedication and respect. AirSXM.com will fulfill the role as an online reservations request site for Air St. Maarten and provide you with fares that we have negotiated with individual airlines and charter operators that fly to and from St. Maarten, directly or indirectly.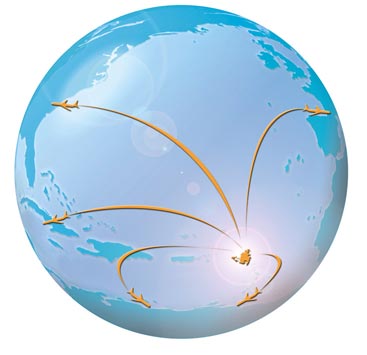 We will also provide you with fares to other destinations that Air St. Maarten services through other travel providers.
As Air St. Maarten operates as a virtual airline, we book our passengers on most routes to and from St. Maarten and between the other islands with commercial and private charter operators such as Aeropostal, Air Caraibes, Air France, Air Jamaica, American Airlines, American Eagle, Anguilla Air Services, BWIA (now known as Caribbean Airlines), Carib Air Services, Caribbean Star, Caribbean Sun, Copa Airlines, DAE, Divi Divi Air, EZ Jet, Fly BVI, Island Airlines, Inselair, KLM, LIAT, St. Barth Commuter, SVG Air, Tiara Air, Tradewind Aviation, TransAnguilla, Windward Express and Winair.
First published: 15th June 2006 17:42:19 BST
Last modification: 30th December 2013 22:32:58 GMT